Internet Modeler : New Releases : Aviation
RSS News Feed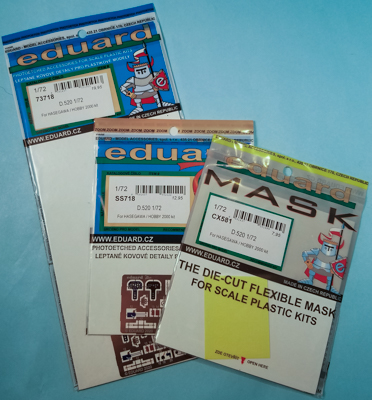 Eduard 1/72 Hasegawa/Hobby 2000 Dewoitine D.520 Aftermarket
Overview
I'm not exactly sure when it happened, but some time ago Hobby 2000 started releasing kits using Hasegawa plastic. The great thing is not only would these ex-Hasegawa kits come with new decals produced by Cartograf but they also come with masks created by Pmask. If there was any Hasegawa release you wanted, but it has been out of production for some time, then look to Hobby 2000 for a re-release. And naturally, since these are Hasegawa kits, Eduard would produce aftermarket items for them.
The Aftermarket
Naturally Eduard would release a mask set for the kit. Even though the Hobby 2000 re-release comes with a set of Pmasks in the box, you might want to pick up a set of masks for the original Hasegawa release. Or you've used your Pmask set one too many times. In any event there are masks for the clear parts as well as the main wheels. Just nothing for the tail wheel.
The next release from Eduard for the Hasegawa/Hobby 2000 1/72 Dewoitine D.520 is a Zoom set, primarily meant for the interior. There are belts for the kit's seat; a two-piece instrument panel that is glued to the smooth, kit part; rudder pedals; and photoetch sidewalls with extra added detail.
The final release from Eduard is a little more comprehensive. You do receive the Zoom fret that's outlined above, but you also receive more interior detailing. This bigger set comes with a replacement seat; extra detaling for the cockpit floor; more sidewall detail; main gear well detailing; replacement main gear wheel-covering-doors; replacement and extra items for the underside radiator; a grill for the very front of the nose; and a replacement antenna plus a bead-and-sight gun sight. Plenty to add extra detail to your Hobby 2000/Hasegawa kit.
Conclusion
The Hasegawa 1/72 D.520 is a nice kit, and with the Cartograf decals and Pmask masks in the Hobby 2000 release will make it something to truly track down. Add what Eduard provides and you'll have a first-rate D.520 on your shelves. The only thing I question is the color of the "blue" Eduard provides on these pre-painted parts. The color is more "purple" than it is blue, so you may want to put these on the kit prior to painting, and over-paint the color Eduard provides. I know I will, especially on the cockpit sidwall photoetch pieces. The smaller pieces could be left in the darker color for contrast.
My thanks to Eduard for the review set.