Internet Modeler : New Releases : Aviation
RSS News Feed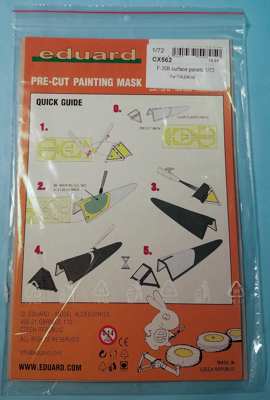 Eduard 1/72 Italeri F-35B Surface Panels Masks
Overview
The newest USAF jet, the F-35, is finished in an unusual way. Some of the surface panels are a diffrent paint than others, This is a way to help its stealth capabliities. Model makers have either ignored this, provided decals for these separate panels, or - like Eduard - have masks to use to paint these panels. Personally, I think masks are the best option.
The Masks
It will be a time-consuming effort, but using these masks from Eduard for the 1/72 Italeri F-35B will make the panels look better than if trying to fit decals. Not only are all panels accounted for, but Eduard also provides extra "stripe" masks.
Conclusion
In my opinion, painting these panels will provide a better finish than using decals. Thankfully with Eduard's masks, while it will be a time-consuming process, masking the F-35B won't be as difficult as creating your own masks. I'm hoping some of the masks will also work on Italeri's F-35A.
My thanks to Eduard for the review sample.