Internet Modeler : New Releases : Aviation
RSS News Feed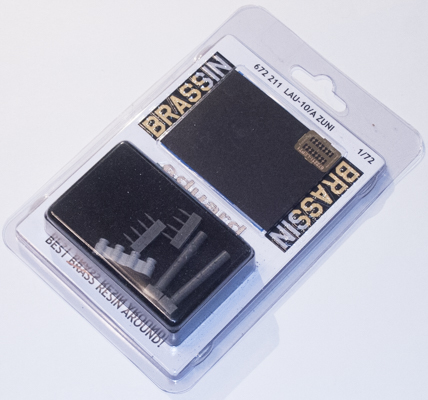 Eduard 1/72 LAU-10/ A ZUNI
Overview
From Wikipedia:
"In the early 1950s, U.S. Navy engineers Naval Ordnance Test Station China Lake began to develop a new 12.7 cm unguided rocket to replace the High Velocity Aircraft Rocket.
"The Zuni was designed as a modular system, to allow the use of different types of warheads and fuzes. One type of warhead had a proximity fuze, as the rocket was originally intended to be used as an air-to-air rocket. This led to its selection as the basis for the AIM-9 Sidewinder airframe in the early 1950s.
"The Zuni was approved for production in 1957. A number of different launchers were tested for the Zuni, e.g. single launchers fitted to the Sidewinder launching rails of the Vought F-8 Crusader. However, four-tube LAU-10/A series pods became the most commonly used launcher.
"The Zuni was named after the Zuni Native American tribe in modern day New Mexico."
The Set
The Eduard 1/72 LAU-10/ A ZUNI consists of 14 pieces of resin, a photoetch fret and a set of decals. There are enough pieces to create two LAU-10 pods and each pod has four rocket "heads". In addition to these, there is also a piece of resin for the rear of the pod with photoetch pieces which are used to make it look like the exhaust ends of the rockets. You can also build these pods "empty" by keeping the rocket "heads" off and not using the photoetch pieces. The decals are for various stencils on the pods.
Conclusion
If you need a set of LAU-10/ A ZUNI rocket pods in 1/72 to outfit a US 'Nam bird, or others, then you'll want to pick up this set.
I definitely thank Eduard for the review sample.