Internet Modeler : New Releases : Aviation
RSS News Feed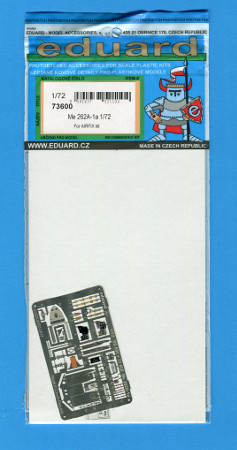 Eduard 1/72 Me262A-1a Photo Etch
This photo-etch set is for Airfix's new Messerschmitt Me262A-1a kit. It consists of 77 parts on 2 frets, one of which is prepainted, plus an acetate sheet containing 3 gunsight lenses.
The prepainted fret is dedicated to the interior. It includes a new instrument panel, seat belts, side consoles, canopy armor, etc. You also get enhancements such as a circuit breaker panel, rear cockpit upper decking, rudder pedals, and throttle quadrant.
The second fret is dedicated to the overall air frame, and it includes brake lines, oleo scissors, landing gear doors, wheel wells, etc.
This set will be easy to use, with the aid of Eduard's well illustrated instructions. Some of the parts are extremely small, so I recommend that you put the PE fret(s) in a plastic bag while removing parts from the fret, and that you have your Optivisor or preferred magnification device and PE scissors handy.
Eduard's new Me 262 kits has been well received. It is accurate, well engineered, and highly detailed. This photo-etch set adds a superior level of detail to the cockpit and the overall air frame.
I recommend this set and I would like to thank Eduard for the review sample.