Internet Modeler : New Releases : Aviation
RSS News Feed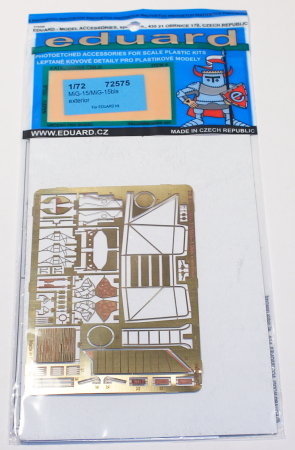 Eduard 1/72 MiG-15/MiG15bis Exterior Photoetch
Now that we have the cockpit and airbrakes out of the way, what's left? Why, there's a whole bunch that can be added to the outside of either Eduard's 1/72 MiG-15 or MiG-15bis! So, that's what this set is for.
First you'll find three internal areas that receive attention. There are replacement rudder pedals and the gun sight framing. In addition are parts to be added to the top of the cockpit sides.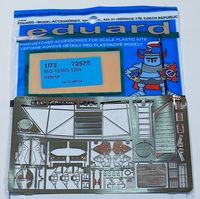 The largest area receiving added parts are the main landing gear, landing gear doors and wheel wells. There are parts to represent the hydraulic lines in the main gear, wiring and such for the main wheel wells, and replacement main gear doors. There is also added hydraulic lines for the nose gear and a replacement door for that area, too.
For other external pieces you receive underside antenna, a replacement main antenna for the starboard forward fuselage and an extra piece for inside the canopy.
Finally there are ground pieces. Exhaust and intake covers, a cockpit ladder, a maintenance stand, wheel chocks and finally a protective pad placed over the wing to walk on.
All in all, plenty of extra bits that will make your Eduard 1/72 MiG-15 or MiG-15bis really stand out.
Huge thanks to Eduard for supplying the review set.