Internet Modeler : New Releases : Aviation
RSS News Feed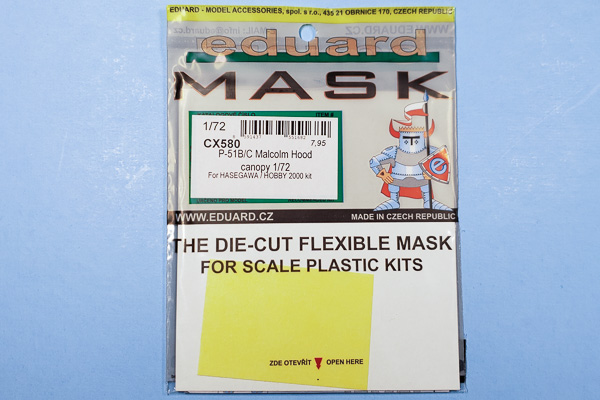 Eduard 1/72 P-51B/C Malcolm Hood Mask for Hasegawa Kit
Overview
The Hasegawa 1/72 P-51B is not perfect, but it goes together well and can be found just about anywhere. Recently it has been re-released by Hobby 2000, and Eduard has chosen to provide some updates for this kit.
The Mask Set
The P-51B is a challenging canopy to mask, with the curved rear canopy section and a heavily framed main canopy. This got a bit easier with the Malcolm hood, which replaced the main canopy with a one-piece blown hood, but you're still stuck with those curved rear windows. This mask set covers all of that, and more. The windscreen mask is made up from five pieces, while the rear curved sections are one piece for each side. The Malcolm hood has four pieces to cover all four corners, leaving the center section open for you to cover with liquid mask. Unfortunately the set does not include the masks for the framed canopy, which is a pity as the Hasegawa Mustang often comes with both styles.
While the canopy is the primary item in this set, the mask also includes pieces for the wheels. It's pretty common to find main wheel masks, which are basically nothing more than circles, and those are included here. In fact, there are two ways you could use these masks, as the instructions show masking around the tire so you can paint the hub. But you could use the center of that mask to mask off the hub to paint the tire as well. Also included is a mask for the tailwheel hub, which is molded integrally with the tailwheel strut. Because of that integrally molded piece, it would seem the better choice would be to mask the tire and paint the hub/strut at the same time, but this could work as well.
Conclusion
Despite the oddities with the tailwheel and the missing framed canopy pieces, this is a great set to have for your Hasegawa P-51B Mustang. My thanks to Eduard for the review sample.