Internet Modeler : New Releases : Aviation
RSS News Feed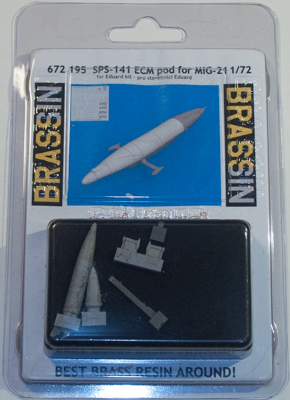 Eduard 1/72 SPS-141 ECM pod for MiG-21
Taken from the Brassin instructions:
"The SPS-141 ECM Pod was carried in the Czechoslovak Air Force by the MiG-21MF and MA using special pylon adaptors under the fuselage. This equipment was designed to jam the Hawk (MIM-23) anti-aircraft defence system and allow four-ship formations of MiG-21s to penetrate into enemy held territory."
The Eduard Brassin ECM pod consists of six pieces of resin and a decal sheet. The decal sheet not only consists of decals for the pod itself, but it also comes with markings for two Czech MiG-21s that carried the pod:
MiG-21MF, No. 9714, 1st sip,

České Budějovice

, Czechoslovakia, 1989/1990 (finished in wood brown and green on top, with light blue undersides)

MiG-21MF, No. 4312, 9th sip, Bechyně, Czechoslovkia, 1980s (finished overall in NMF)
Decals are to Eduard's usual high standards. Czech national insignia for the above aircraft will need to be sourced from either a MiG-21 kit, or from some other alternative source (for example, if you're adding this pod to one of Eduard's Overtrees).
Building the ECM pod won't be difficult. There are two items you'll need to do before, though. The first is to drill a hole (and Eduard points out the size) into the nose cone, part R43, to accept a length of wire. The other surgery you'll need to accomplish is to drill the holes in the actual MiG-21 kit's lower wing section which will be used to accept the ECM pod's pylon once built and painted.
Glue the main parts of the pod's body together, add the two "wings" and after painting and decaling, it will be ready to attach to the supplied pylon, which in turn will be glued to an actual MiG-21 kit. In addition, there's a separate "instrument panel" to be added into the cockpit, directly above the kit's actual instrument panel.
If an SPS-141 ECM pod equipped MiG-21 is in your future, then you'll want to pick up this resin and decal set. Once you acquire your MiG-21 and decals (if the kit is an Overtree), then using this set you can complete your SPS-141 equipped MiG-21.
My thanks to Eduard for this review sample.