Internet Modeler : New Releases : Aviation
RSS News Feed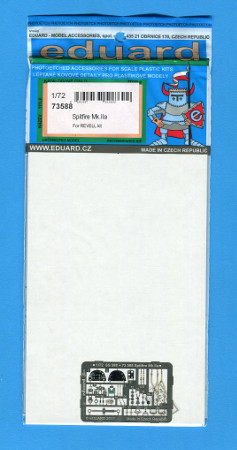 Eduard 1/72 Spitfire Mk.IIa
This photo-etch set is for Revell's new Supermarine Mk. IIa kit. It consists of 50 parts on 2 frets, one of which is prepainted, plus an acetate sheet containing 3 gunsight lenses.
The prepainted fret is dedicated to the interior. It includes a new instrument panel, seat belts, compass mount, etc. You also get enhancements such as a new control column, gunsight mount, rudder pedals, and throttle quadrant.
The second fret includes a highly detailed seat, landing gear door, oleo scissors, landing gear doors, wheel wells, etc. Additional items include a rear view mirror, new oil and radiator cooler faces and seat armor.
This set will be easy to use, with the aid of Eduard's well illustrated instructions. Some of the parts are extremely small, so I recommend that you put the PE fret(s) in a plastic bag while removing parts from the fret, and that you have your Optivisor or preferred magnification device and PE scissors handy.
I was pleasantly surprised to discover Revell Germany's new 1/72nd scale Spitfire Mk.IIa kit. It is accurate, well engineered (the wheels, however, are heavy handed: replace them with some of Eduard's Brassin wheels) , and highly detailed. This photo-etch set adds a superior level of detail to the cockpit and air frame.
I recommend this set and I would like to thank Eduard for the review sample.