Internet Modeler : New Releases : Aviation
RSS News Feed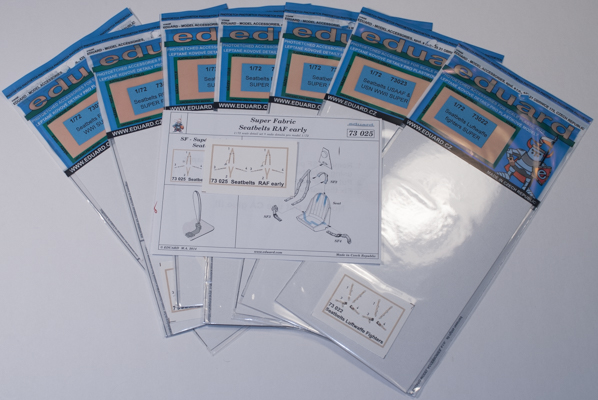 Eduard 1/72 Super Fabric Seat Belts
Eduard has come up with a new solution to modeling belts you attach to seats. They call it "Super Fabric" and while I'm not sure what type of material it actually is, they almost appear to be some sort of thin vinyl or the like. In any event they're not photoetch so there's a different way they should be applied.
The first set of releases include:
73022 Luftwaffe Fighters
73023 USAAF & USN WWII
73024 IJN
73025 RAF Early
73026 RAF Late
73027 RFC WWI
73028 France WWI
There are two sets of belts per package.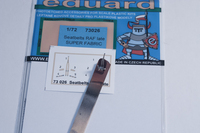 The primary way you attach the belts is to use a sharp pair of tweezers, grab an edge of one of the belts, and glue it to the seat. They recommend to use white glue and NOT CA - I'm guessing because the CA has some kind of reaction to the material used.
The other way I've read from Eduard is you can use them like a decal. However, do not immerse the entire backing, once it's cut from the sheet. Instead float the backing on the water and once the paper has soaked up the water then you use the belt like a decal.
I have tried the first solution, by carefully removing the belts from the backing by using a pair of tweezers (and it IS important they're sharp) and then using white glue to attach them to the seat. As you can see in my pictures of an AZ 1/72 Spitfire Mk.IX seat they really look good. One aspect of them that's different than photoetch belts is you have to glue them into the shape and position you want. Using photoetch you can carefully bend the belts to sit how you think they should.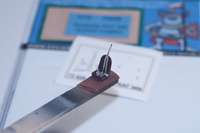 I do recommend them, with that caveat. Going in knowing you'll need to glue them down will go a long way to figuring out how you can get them to lay like you want.
My thanks to Eduard for supplying the belts for review. I will be using them in future builds.