Internet Modeler : New Releases : Aviation
RSS News Feed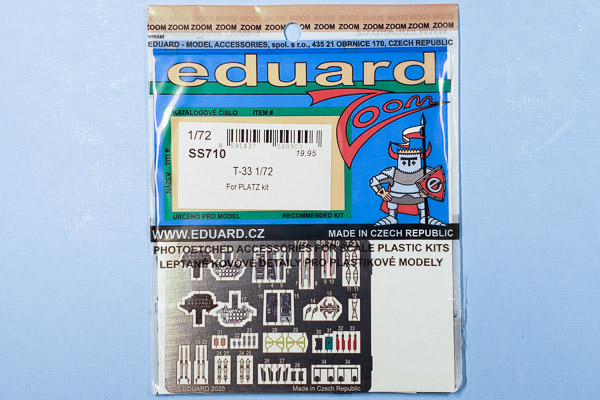 Eduard 1/72 T-33 Zoom PE for Platz Kit
Overview
The Platz 1/72 T-33 kit is both a nice kit and a very welcome addition to the 1/72 world. With so many countries flying the type for so many years, there is no shortage of interesting markings, so many modelers will likely want to build multiple examples. To speed up the build process, this Eduard Zoom set will simplify detailing your T-33 interior.
The Set
This is a very simple photoetch set to implement, with minimal folding and no rolling needed. There will be some removal of kit parts, though, such as all the raised detail on the instrument panels and sidewalls and side pieces on the seats. The seats replace those removed side pieces with new folded handles and adds some armrest pieces. There's a small brace for the backside of the seat, and then the rest of the seat details are the seatbelts: two shoulder and two lap belts.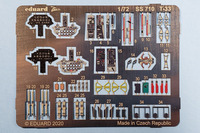 The instrument panels need to have their detail scraped off, then replace that detail with the two-layer photoetch panel. You'll also cut off the rudder pedals and replace those with the one-piece photoetch part. Moving to the cockpit tub, once again you'll remove the sidewall detail, then throw on the four photoetch pieces. There's a couple additional photoetch pieces that fit on the vertical sides, and there's a few more pieces for the fuselage and canopy insides. Finally, there's a bit of detailing for the landing gear that includes the oleo scissors and the nose gear door actuator.
Conclusion
This is a quick and easy upgrade for the Platz kit and a great way to avoid painting a bunch of cockpit details. My thanks to Eduard for the review sample.