Internet Modeler : New Releases : Aviation
RSS News Feed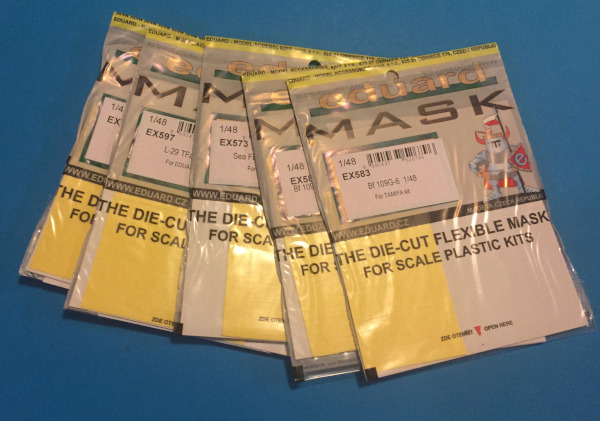 Eduard Canopy Masks
Let's take a look at 5 different sets of Eduard canopy masks for 1/48th scale kits. The first set (EX573) is for Airfix's Sea Fury FB.11. This a fairly simple yet surprisingly complete set that includes masks for the tail wheel, main wheels, wing tip navigation lights, windshield and the canopy.
The second set (EX581) is for Erla canopies included in Eduard's own Bf109G-6, G-10 and G-14 kits. This mask set is part of Eduard's new TFace line of masks for both the canopy interior and exterior. It also includes masks for the 2 types of late canopy armor, the so called "Galland Panzer" and the armor unique to the pressurized G-5 variant.
The third set (EX583) is for Tamiya's excellent new Bf109G-6 kit. The Tamiya kit only includes the standard, "framed" canopy so you get a complete set of masks (exterior only) for it, the tail wheel, main wheels and Galland Panzer canopy armor.
The fourth and fifth sets (EX596 and 597 respectively) are for Eduard's L-29 Albatross kit. EX596 includes exterior canopy and main wheel masks. EX597 is part of the TFace line, so you get canopy interior and exterior masks and main wheel masks.
I am always looking for things that simplify repetitive tasks and Eduard's canopy masks fit the bill. I recommend these sets and I would like to thank Eduard for the review samples.