Internet Modeler : New Releases : Aviation
RSS News Feed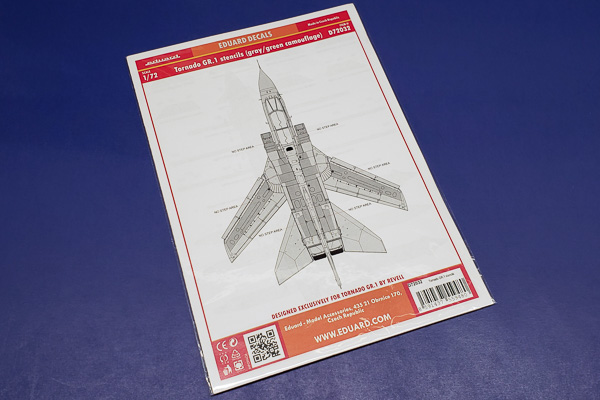 Eduard Decals 1/72 Tornado GR.1 stencils (gray/green camouflage)
Overview
When it comes to creating a scale replica of an aircraft, one of the most often ignored areas is with aircraft stenciling. Warnings, cautions, and general instructions can be found all over an aircraft, even more so on military aircraft. While small and often drab in appearance, their simple addition to a model transforms the finished subject into something that just looks right. Eduard has tackled this issue with many decal sheets of stencils, and their latest release covers the Revell 1/72 Tornado GR.1.
The Decals
One of the reasons many modelers avoid putting stencils on a model is the daunting task, and this set is no exception. There are 115 decal numbers provided, but that masks the total number of decals as many of them have multiples. For example, decal #115 has 36 separate decals (they're NO STEP decals, a common one on the everywhere where you, well, shouldn't step). Luckily, Eduard is quite detailed with their instructions, and as long as you follow those closely and only apply a few at a time, you should have no problem.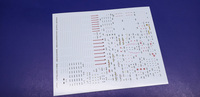 The decals are very sharply printed, with many done in multiple colors (red and yellow primarily, with a bit having white as well). As noted in the title, these stencils are for the gray/green camouflaged Tornados, so if you're wanting to do a desert camouflaged one or a later overall gray plane, these are not the stencils you'll need. Luckily, the gray/green Tornados had some interesting markings as well, so there won't be any shortage of cool schemes to pick from.
The only thing I could see that would have made this set much better would have been if Eduard had grouped individual stencils into groups so that instead of applying four or five decals into a small area, you'd just have to apply a single decal. Sure, there's a greater risk of silvering that way, but it would also be much easier to ensure all the decals are aligned properly, while also reducing the total number of decals to apply.
Conclusion
Overall, though, this is a very useful set of decals to have, and if you are planning on building a Revell GR.1 Tornado, definitely pick this sheet up as well. My thanks to Eduard for the review sample.