Internet Modeler : New Releases : Aviation
RSS News Feed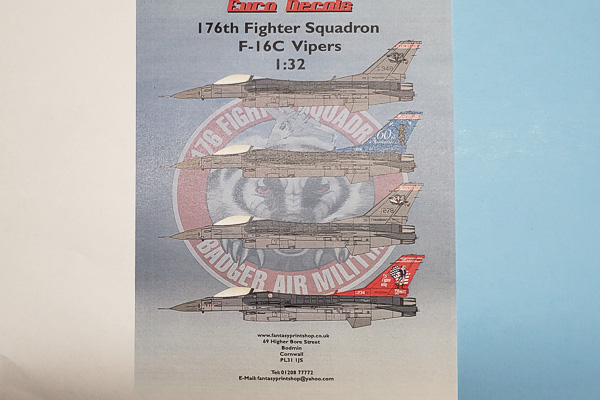 Euro Decals 1/32 176th Fighter Squadron F-16C Vipers (Wisconsin ANG)
Overview
The F-16 is a common sight in Air National Guard units, and they often have attractive unit markings based on their home states. The 176th Fighter Squadron is no exception, and their F-16 Vipers feature the iconic Wisconsin badger. This latest sheet from Euro Decals provides some welcome options for your 1/32 F-16C Viper.
The Decals
This sheet provides four 176th FS F-16C Vipers ranging from stock low visibility to colorful special schemes. The first option is an F-16C Block 30, 87-0348, flown by Major Bob Bello in 2017. The second option is an F-16C Block 30, 87-0278, flown by Colonel Jeff Weigand in 2015. Both of these options feature the red tail band of the 176th FS and the badger emblem on the tail, with 0278's badger done in black, white, red and gray versus 0348's all gray version. Both are camouflaged in FS 36118 gunship gray over 36270 medium gray.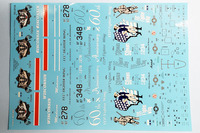 The first colorful option is 87-0278 again, from a different date in 2015 when its tail was painted blue for the 60th Anniversary of the 115th Fighter Wing. It still has the red tail band, but features the National Guard's standing minuteman on the fin along with anniversary text. The camouflage remained 36118 over 36270, and this aircraft was flown by Colonel Joe Brandemuehl.
The second colorful option and final selection on this sheet is another F-16C Block 30, 87-0234, flown by Major Glenn Messner in 1999. It is camouflaged in the earlier F-16 scheme of 36118 gunship gray and 36270 medium gray over 36375 light ghost gray, and features a red vertical fin. The tail markings include a stars & stripes-adorned map outline of Wisconsin and 50 year anniversary text for the 115th Wing.
Conclusion
Any one of these four schemes would make for a nice looking F-16, and it's always good to see Air National Guard units getting their due in aftermarket decal sets. Doing some math, though, either the instructions have the dates wrong or the 60th anniversary aircraft wore its markings for quite a while longer, as there's 16 years between these two aircraft. Regardless of that, these will make for a welcome addition to a Viper collection. My thanks to Fantasy Printshop for the review sample.