Internet Modeler : New Releases : Aviation
RSS News Feed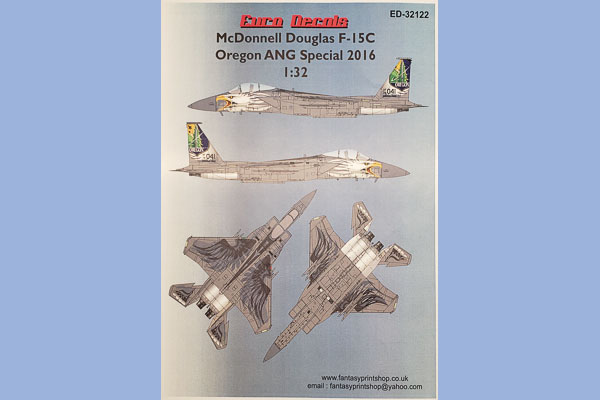 Euro Decals 1/32 McDonnell Douglas F-15C Oregon ANG Special 2016
Overview
Special scheme aircraft are pretty much the only way these days that we see any sort of color on military planes, and thanks to their rarity they are often quite extravagant. Such is the case of this F-15C, painted up in a special scheme for the 75th anniversary of the Oregon Air National Guard.
The Decals
This is a complex scheme for an Eagle, and this is highlighted by the fact that this set has no less than four complete sheets in the bag, all but one being A4-sized. The F-15 is big in 1/32, and these markings cover some big areas. Additionally, there has been an addendum sent out by Euro Decals correcting an error in one of the large wing markings.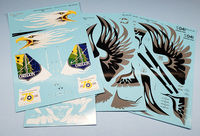 Starting with those wing markings, these are large stylized eagle feathers in dark gray and black, and are featured on both the wings and stabilizers, both upper and lower sides. As these are large decals, be ready for some fun in applying them (a common theme throughout this scheme). For the fuselage, There is a large eagle's head on both sides of the nose. This is presented as one large decal for each side, with additional slivers provided to finish the design onto the canopy rails.
Moving on to the vertical fins, these have decals for both the inside and exterior faces. For the interior sides, there is an outline shape of the state of Oregon, with the 75th Anniversary logo. That's the bland part, it's the fin exterior that's really the impressive one. You've got mountains, trees, a sword, and some feathers. This is a very colorful tail, and this scheme would have been a great one to do if it had nothing but this fin marking. Combined with everything else, though, this is really an awesome F-15 scheme.
Conclusion
For those wanting to do this neat anniversary scheme in 1/32, this is a great decal sheet to have. It will definitely be challenging to apply, given the large decals covering much of the plane, but the results at the end will be worth it. My thanks to Fantasy Printshop for the review copy.