Internet Modeler : New Releases : Aviation
RSS News Feed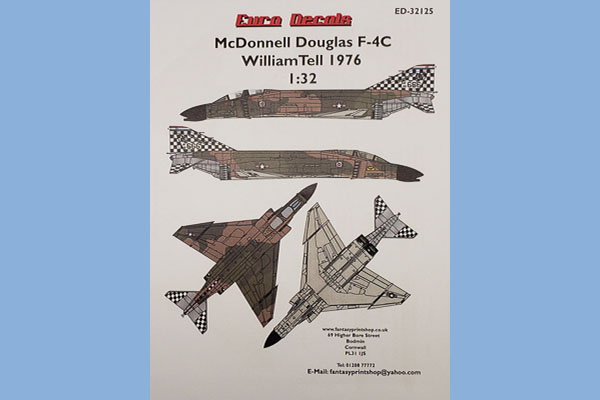 Euro Decals 1/32 McDonnell Douglas F-4C Phantom II William Tell 1976
Overview
The USAF operated F-4 Phantoms out of Iceland for many years, and in 1976 the 57th FIS sent some of their aircraft to the William Tell competition. As it was a competition, the participating units tended to apply special markings denoting the event. Also, 1976 was the bicentennial anniversary of the United States, so that theme also played a part in many schemes.
The Decals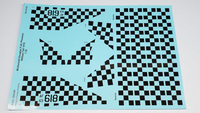 The 57th FIS used black and white checkers for unit markings, with these generally applied to the rudders of their SEA-camouflaged aircraft. For the bicentennial, these markings extended to cover the entire vertical fin as well as the stabilizers. In addition to these, the bicentennial also resulted in an emblem applied to the intake. And of course, there's the William Tell emblem, which consists of an arrow and an apple (appropriate), which the 57th applied to the wing drop tanks.
This sheet provides all the small and large markings needed to finish F-4C 63-666 from the 57th FIS during the William Tell event. This includes large black checkers for the vertical fin and horizontal stabilizers. These decals are quite large, with big areas of clear, so be ready to work hard to avoid silvering. They are going down over white, which will help hide some potential silvering, but a good clear coat and careful application should minimize this risk.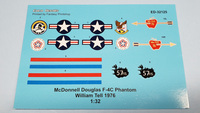 The other markings included are presented on a second sheet. This includes all the various emblems worn. As noted before, the intakes gets the bicentennial emblem, one for each side. The fuel tanks get a map of Iceland in black with 57FIS printed in white over the top. Alongside that is the William Tell emblem of the arrow in an apple. The final emblems included are the 57th FIS badge for the left side of the fin, and the ADC badge for the right side. The remaining decals include the fin tip stripes and national insignia.
Conclusion
This is a classic scheme for the F-4C Phantom, and one that will undoubtedly be popular. While there will be some challenges in applying the larger decals, the end result will be well worth the effort. My thanks to Fantasy Printshop for the review sample.