Internet Modeler : New Releases : Aviation
RSS News Feed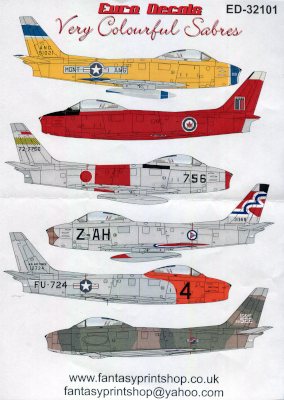 Euro Decals 1/32 Very Colorful Sabres Decals
Euro Decals exciting new 1/32nd scale decal sheet is for the North American F-86 Sabre and Canadian and Japanese license-built Sabres. It has 6 very colorful aircraft options, as follows:
1) "91021", North American F-86A Target Tug Sabre, Montana Air National Guard, Nellis Air Force Base, 1955. Overall yellow color scheme with natural metal rear canopy framing, nose cap, wings and drop tanks. FS35180 Blue edged in white nose area, wing tips, front area of fuel tanks and horizontal band across the fin.
2) "12724", North American F-86E Sabre, USAF, Air Force Flight Test Center, Edwards Air Force Base, August, 1951. Overall natural metal with a FS28915 Day-Glo fluorescent orange canopy and forward nose area. 12724 was one of 4 F-86Es which took part in breaking the closed-circuit speed record in 1951.
3) "24522", North American RF-86F Sabre, Hankook Kong Goon, (Republic of Korea Air Force), circa 1970s. This photo-reconnaissance aircraft was painted in USAF standard SEA (Southeast Asia) scheme of FS30219 Tan, FS34102 Dark Green and FS34079 Green over FS36622 Gray undersides.
4) "23285", Canadair Sabre Mk5, RCAF, Toronto Air Show, 1955. Overall red scheme with natural metal canopy framing,nose cap wings and drop tanks and black anti-glare panel.
5) "72-7756", Mitsubishi F-86F-40 Sabre, of No.1 Squadron, Japanese Air Self-Defense Force, circa 1970s. Natural metal with red fuselage band and nose cap.
6) "31169", North American F-86F Sabre, "AH-2", of No.332 Squadron, Joker Aerobatic Team, Norwegian Air Force circa 1970s. Overall natural metal with red, white and blue Joker Aerobatic Team markings on the wing upper and lower surfaces and red upper tips to the fuel tanks. Metallic bronze nose area with a natural metal nose cap.
Fantasy Printshop printed these decals and they are superb. They are crisply printed, fully legible, in register and have excellent color.
I've always been a Sabre fan. They were exciting, successful aircraft finished with some of the 1950's most colorful markings. If you're looking for a colorful 1/32nd scale F-86 you'll have 6 great options to choose from with this exciting new Euro Decals sheet. I recommend these decals and I would like to thank Fantasy Printshop for the review sample.
References
F-86 Sabre in action, Aircraft Number 126, by Larry Davis, Squadron/Signal Publications, 1992