Internet Modeler : New Releases : Aviation
RSS News Feed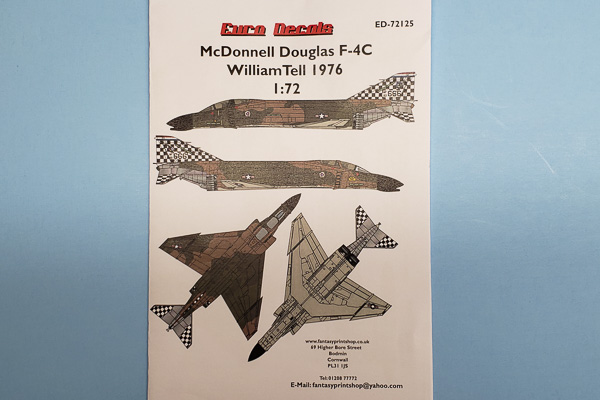 Euro Decals 1/72 McDonnell Douglas F-4C William Tell 1976
Overview
The 57th FIS had some colorful Phantoms over the years, but one of the more interesting schemes was the one worn to the 1976 William Tell exercise. Because it was the Bicentennial, the unit decided to expand on their regular scheme with more checks and additional color.
The Decals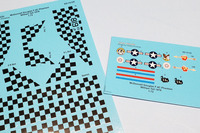 This sheet provides markings for the F-4C, 63-666, which was camouflaged in the standard SEA scheme of Dark Green (FS 34079), Medium Green (FS 34102), and Tan (FS 30219) over Light Gray (FS 36622). While the standard 57th FIS markings consisted of a strip of black and white checkerboard, this plane went quite a bit further. The entire vertical fin as well as the outboard panels of the stabilizers are completely covered in black and white checkerboards, with the vertical fin having a white cutout area for the serial number. To commemorate the Bicentennial, the fin cap is striped red, white, and blue.
For emblems, the vertical fin has the Air Defense Command emblem on one side, and the 57th FIS unit emblem on the other side. On the intake sides is the Bicentennial star emblem, a common sight on many Bicentennial special scheme aircraft. Finally the fuel tanks under the wings get both a silhouette of Iceland with 57th written inside, and the William Tell red apple & arrow emblem.
Conclusion
This is a nice sheet for a colorful F-4C, which is not one of the more common Phantom types we see decals for so it's even doubly good to see this release. If you're looking for something a bit different for your shelf, this would definitely fit the bill. My thanks to Fantasy Printshop for the review copy.