Internet Modeler : New Releases : Aviation
RSS News Feed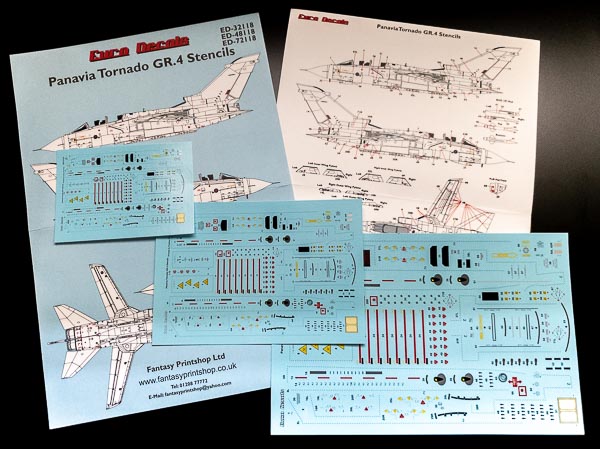 Euro Decals Panavia Tornado GR.4 Stencils in 1/72, 1/48, & 1/32
Overview
With scale models, it's the small details that add the most realism. For most aircraft, stenciling is one of those small details that can make a huge difference, especially on modern gray aircraft. Often times, though, the kit manufacturers only provide a minimum of these stencil markings. These decals rectify that problem for the Tornado GR.4, in all three main scales.
The Decals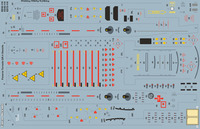 The decal sheets all have the same content and layout, with only the size changing. For stencil decal sheets, there are a couple of different methods that I have seen over the years: individual decals for each stencil or stencil groups. Each have their merits, with the grouped concept being easier to apply but only applicable to a specific model kit, and the individual decal option being more time consuming to apply but with greater versatility. These sheets are all in the individual decal camp, so application will take more time.
Aiding that application, though, are the instructions. With the great number of individual decals closely packed on the decal sheet, knowing exactly where each one goes becomes more critical, and these instructions are excellent in that regard. The callouts are clear, and the locations easily identified. The diagrams show the stencils in their final location, while all the numbers are outside with clear lines showing the exact stencil on the aircraft. In addition to airframe stencils, there are also markings provided for the 465-gallon wing tanks, the Marconi Sky Shadow, and the BOZ 107 pod.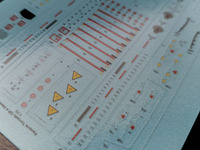 The decals themselves are very well printed, with thin carrier film and minimal surround so there will be a smaller chance of silvering. Still, I highly recommend making sure the surface is very smooth and setting solutions are used, as you will want the clear film to completely disappear. The color is excellent, as is the detail.
Conclusion
With the other Tornado decal releases by Euro Decal, these sets can result in a highly realistic GR.4 model. Regardless of the final marking choice of your kit, I highly recommend adding these decals to your finished plane. My thanks to Fantasy Printshop for the review sample.