Internet Modeler : New Releases : Aviation
RSS News Feed
F4U-1A Corsair Decals in 1/72 and 1/48
Eagle Editions' EagleCals EC#20:
Taking a break from the usual Luftwaffe subjects, EagleCals is focusing on a single American unit, VF-17. The Jolly Rogers, or Blackburn's Irregulars as they were known in less formal circles, knocked down 150 Japanese planes and pioneered the use of the Corsair as a fighter-bomber during their 90-day tour in late 1943.
EagleCal's sheet provides markings for five VF-17 F4U-1As, each in the standard three-tone blue and white scheme. Six black and white photos help both with the placement of the decals and the painting of various ideosyncracies in the plane's camouflage, including weathering and paint chipping.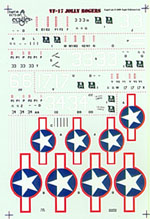 The aircraft depicted are CO LCDR Tom Blackburn's "Big Hog," XO Rog Hedrick's mount, LT(JG) Jim Streig's aircraft, LT Butch Davenport's "Lonesome Polecat," and LT(JG) Chico Freeman's "L.A. City Limits." Although most of these aircraft have been depicted in the past, EagleCals gets them right. The printing is excellent, and the inclusion of two styles of kill markings--one-part decals and separate red and white decals--are a thoughtful touch. Also included are lengths of white decal "tape" for the forward fuel cell, stars and bars for two planes, and even the little "NAVY" legends for the tail!
Having devoured Tom Blackburn's book "The Jolly Rogers" and struggled to build an accurate VF-17 Corsair, this sheet is a real inspiration. I'm looking forward to decking out an Academy Corsair in these decals! Our thanks to Eagle Editions for our review sample.