Internet Modeler : New Releases : Aviation
RSS News Feed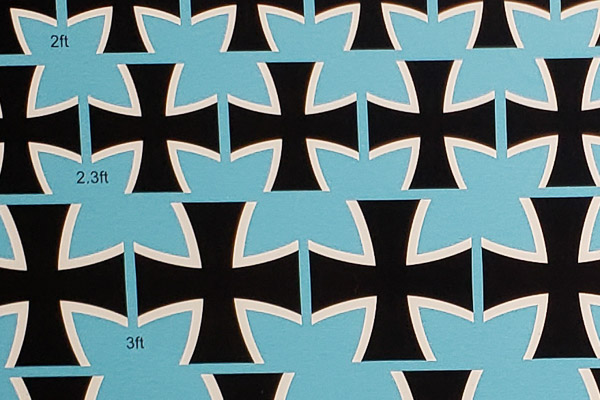 Fantasy Printshop Current Luftwaffe Insignia in 1/48 & 1/32 Scales
Overview
One of the challenges of building models is having national markings match from model to model. Often times kit manufacturers will utilize different shades of decal colors and slight size variations. This can be exaggerated with the use of aftermarket decal sheets, where those variations could show up on the same model. The solution for this is to use an aftermarket sheet that has nothing but national insignia, and Fantasy Printshop has done just that for post-war Luftwaffe aircraft.
The Decals
These new sheets from Fantasy Printshop offer up Luftwaffe post-war crosses in multiple sizes. Provided in either 1/32 or 1/48 scales, each sheet has crosses in eight different sizes. Interestingly, these sizes are listed in feet, while the Luftwaffe used metric measurements. The sizes included are:
1 ft: 12 crosses
1.3 ft: 12 crosses
2 ft: 12 crosses
2.3 ft: 12 crosses
3 ft: 12 crosses
3.3 ft: 6 crosses
4 ft: 6 crosses
4.3 ft: 6 crosses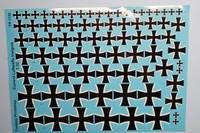 The decals are nicely printed with excellent registration, and will make for a consistent and uniform look across all your Luftwaffe aircraft.
Conclusion
These are a simple aftermarket decal set, but one which is highly useful. Hopefully we will see these duplicated in 1/72 & 1/144 soon, and expanded into other nations' national insignia. My thanks to Fantasy Printshop for the review samples.