Internet Modeler : New Releases : Aviation
RSS News Feed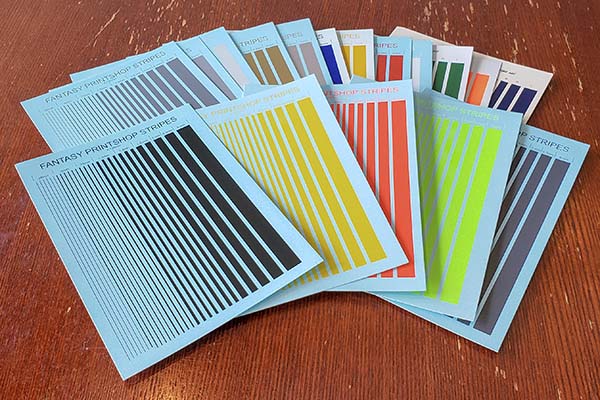 Fantasy Printshop Decal Stripe Sheets
Overview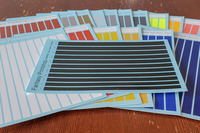 While most aftermarket decal sheets provide specific markings for specific subjects, sometimes we will come across some generic sheets. These could be generic stenciling for aircraft, or sponsor stickers for race cars. In this case, though, it gets even more generic, with a large selection of options from Fantasy Printshop containing nothing but stripes.
The Sizes
There are two sizes available in this new range from Fantasy Printshop: a small size and a large size, with a single width overlap stripe between the two sets. The small size sheet contains nine different stripe widths, while the large size sheet has only six different stripe widths. With that single overlap size, between the two sheets you get fourteen different stripe widths, which should give you lots of striping potential.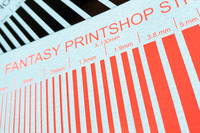 In addition to the stripe widths, the sheets also vary in the total number of stripes in each available size. The smaller sheet, logically, has more of the thinner stripes, while the larger sheet offsets the reduced number of individual stripes by having longer overall stripes on the larger paper stock. The width options on the small sheet, all at 130mm in length, are six 0.25mm, six 0.5mm, four 0.75mm, four 1.5mm, three 1.9mm, two 3.8mm, one 5mm, one 6.3mm, and one 9mm. For the large sheet, the 175mm-long stripes have width options of two 7mm, two 8mm, two 9mm, two 10mm, two 11mm, and one 12mm.
The Colors
So now that we've got the sizes out of the way, let's take a look at the color options. This is where this lineup really shines, as most times stripe decal sets come in only a few colors. Here you have over a dozen options, with the large stripe options having a few more than the small sets. For color options, you get the basics of black and white, silver and gold. Moving on from that, the common colors include signal red, golden yellow, aircraft blue, roundel blue, light aircraft gray, medium sea gray, dark sea gray, extra dark sea gray, and fluorescent red. The large pack also includes dull red, traffic yellow, fluorescent yellow, and fluorescent orange.
Potential Uses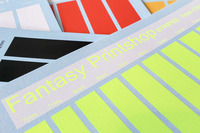 So, with all these sizes, and all these colors, what could these be used for? The uses quickly go from the obvious to the obscure once you start thinking about these stripes in combination. Of course the most obvious would be cheatlines on airliners, but it would also work for lines on civilian aircraft, or bands around missiles and bombs. The smaller stripes could also be used to wrap around piping in aircraft wheel wells or automotive engine components. Aircraft walkway markings, ship deck markings, and car racing stripes are all valid uses as well. For those into figures, some trimming can result in creating rank insignia, uniform piping, or even uniform patches. These ideas only scratch the surface, and the more you use these, the more places you'll find to use them.
Conclusion
These are some excellent decal sets that have a huge amount of potential. Start with one or two common colors, and you'll soon end up adding more colors for the added potential. My thanks to Fantasy Printshop for the review samples.