Internet Modeler : New Releases : Aviation
RSS News Feed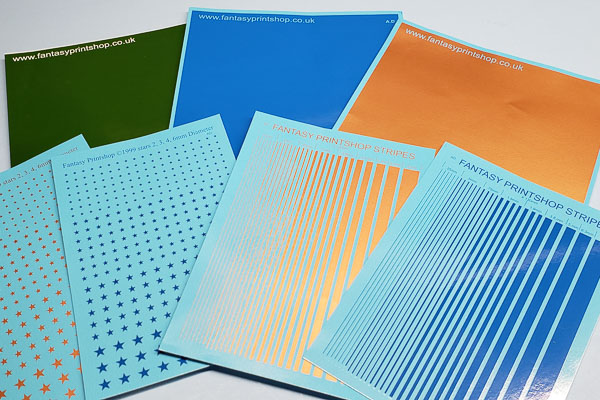 Fantasy Printshop Solid, Stripes, & Stars Decal Sheets
Overview
Sometimes in the process of building a model, one needs some custom decal options. Fantasy Printshop caters to this with many options, and their latest open up some intriguing possibilities. Here's their latest options in three forms: solid, stripes, and stars.
The Decals
Starting with the biggest first, there are three solid color sheets in grass green, medium blue, and metallic bronze. These sheets are A5-sized, measuring 140mm by 210mm, so you have lots of material to work with. The green looks to be close to the Willow Green shade found on US Navy aircraft, while the blue appears to be a good match for French WW2 roundel blue.
Moving on to the stripes, there are two sheets of these: one in the medium blue and one in the metallic bronze. These are 130mm in length and come in widths of 0.25mm, 0.5mm, 0.75mm, 1.5mm, 1.9mm, 3.8mm, 5mm, 6.3mm, and 9mm. These stripes have a multitude of uses, from fuselage stripes and trim markings to bands around landing gear and missile bodies.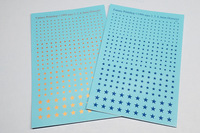 Finally we have two more sheets, this time with different-sized stars. These are also in medium blue and metallic bronze, and each sheet has stars in 2mm, 3mm, 4mm, and 6mm sizes. There are 133 2mm stars, 112 3mm stars, 65 4mm stars, and 33 6mm stars. I can see using these as personal markings on flight helmets, or other individualized markings on aircraft, cars, even armor.
Conclusion
These are all highly useful decal sheets to have stored up for when you need them. The colors are densely printed, and previous experience with Fantasy Printshop decals have shown that they're easy to apply. If these specific colors are not what you need, I am sure we will see additional colors in the very near future. My thanks to Fantasy Printshop for the review samples.