Internet Modeler : New Releases : Aviation
RSS News Feed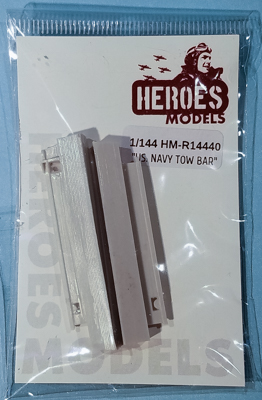 Heroes Models 1/144 U.S. Navy TOW Bar
Overview
I recently reviewed a set of Heroes Models 1/144 Deck Crew. To complete the idea of a U.S. Navy display, they have also released this TOW bar.
The Set
The Heroes Models 1/144 1/144 U.S. Navy TOW Bar consists of two pieces of resin that when glued together will result in one U.S. Navy TOW bar which you can use to display near, or attached to, your 1/144 U.S. Navy model aircraft.
Conclusion
As you can see in the picture below provided by Heroes Models, once assembled and painted their TOW Bar will look great, especially when displayed near a 1/144 U.S. Navy aircraft. Definitely a great addition to your carrier deck display.
I definitely thank Heroes Models for the review sample.