Internet Modeler : New Releases : Aviation
RSS News Feed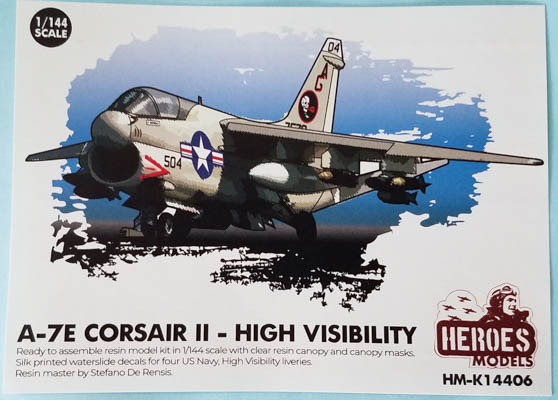 Heroes Models 1/144 A-7E Corsair II - High Visibility Decals
Overview
We've reviewed a few items from Heroes Models in the past and feel they provide excellent return on the investment. This time around they have a full sheet of decals for U.S. Navy A-7Es.
The Decals
The Heroes Models 1/144 A-7E Corsair II - High Visibility decals contain markings for four aircraft:
LTV A-7E 160538, VA-22 Fighting Redcocks, USS Enterprise, 1982
LTV A-7E 157578, VA-12 Flying Ubangis, USS Independence, 1972
LTV A-7E 156858, VA-105 Gunslingers, USS Saratoga, 1979
LTV A-7E 150880, VA-93 Ravens, USS Midway, 1982
The decals appear to be in register and are very nicely printed. All aircraft are standard US Gull Gray over Insignia White. Note that the directions call for specific items that are standard to Heroes Models' own 1/144 resin kit, but still could help if using these decals on another kit. So yes, while you can purcahse their kit with these decals already added, you can also purchase these decals separately.