Internet Modeler : New Releases : Aviation
RSS News Feed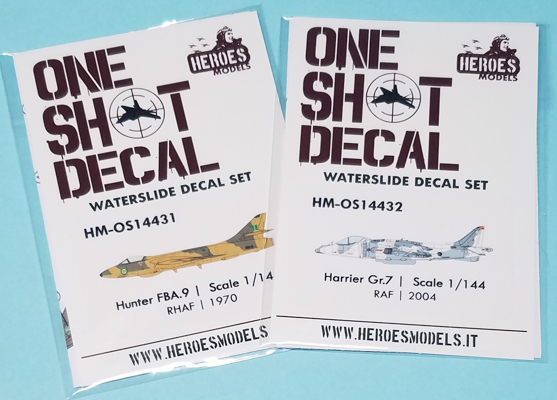 Heroes Models 1/144 One Shot Decals
Overview
Heroes Models is an excellent supplier of aftermarket and kits in 1/144. Their idea for their One Shot decals is refreshing: offer just one example per set which cuts down on the amount of decals left over to none. If one of the schemes from them strikes your fancy, then they include all you need to worry about for that one aircraft.
The Decals
The first decal sent is for a Rhodesian Air Force Hawker Hunter FGA.9 flown in 1970. It's finished in Dark Earth and Dark Green overall.
The second set of One Shot decals is for a Hawker Harrier Gr.7 flown by IV Squadron RAF in Norway in 2004. It's finished in Dark Sea Gray, Dark Camouflage Gray and Washable White.
Both sets of decals are perfectly printed and in register.
Conclusion
Look over Heroes Models site and see if any of their One Shot series of decals strike your fancy. With the One Shot series you won't have any left over decals, wondering what to do with. I'm definitely thankful for the Rhodesian markings as it will look great sitting next to my Qatar build from eons ago.
Huge thanks to Heroes Models for sending these One Shots to review.