Internet Modeler : New Releases : Aviation
RSS News Feed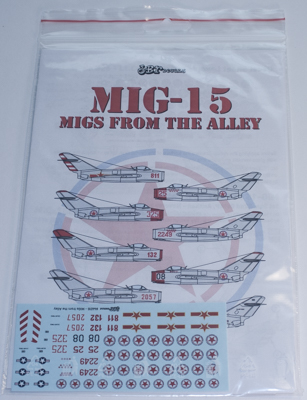 JBr Decals 1/144 MiG-15 MiGs from the Alley
Whenever you discuss either F-86 or MiG-15 models the discussions will always turn towards the Korean War. Since these two met frequently in what was known as "MiG Alley" modelers are always looking for Korean War markings.
JBr Decals has released the first sheet for these ubiquitous aircraft. There are eight aircraft that can be built from this sheet:
MiG-15 811, Lt. V.I. Chizh, 1st Sqn, 72nd GvIAP, Anshan - November 1950
MiG-15bis 325, Lt.Col. Y.G. Pepelyaev, 196th IAP, Antung - June 1951
MiG-15bis 132, Capt. N.V. Sutyagin, 17th IAP, Tatung-kao - June 1951
MiG-15bis 25, Zhao Baotong, 3rd FAD
MiG-15bis 2249, Wang Hai, 3rd FAD
MiG-15bis 08, Sun Shenlu, 3rd FAD
MiG-15bis 2057, No Kum-sok, Kimpo AFB - September 1953
MiG-15bis 616 (ex. 2057), USAF, Okinawa - late 1953
Decals are to JBr Decals' usual high quality and appear to be in register. Note these decals should also work on the Attack kit as well as the new Eduard one.
My thanks to JBr Decals.