Internet Modeler : New Releases : Aviation
RSS News Feed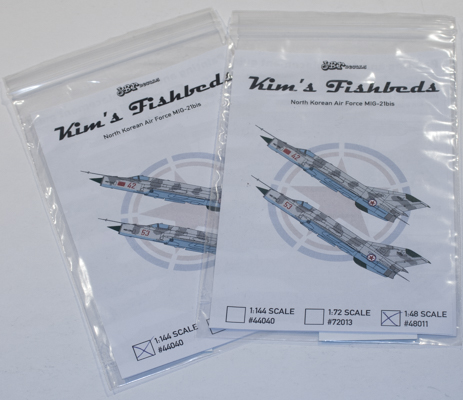 JBr Decals Kim's Fishbeds
For this release, JBr Decals has provided us with two North Korean MiG-21bis' as they appeared at the Wosan International Friendship Air Festival in 2016. Both "Red 42" and "Red 53" have the same colors (Light Grey and Dark Grey on top, with Light Blue on the undersides) but the patterns are different.
"Red 42" has its outer wings - on top - in mostly Dark Grey, along with the outer horizontal tail surfaces. The "blotches" on the fusealge appear to be more concise with their application and the rudder/fin horizontal stripe appears to be the same on both sides. "Red 53", however, appears to have its dark grey splotches in not such a concise pattern plus the wings are more "splotchy" then "Red 42".
In any event, if you want to build a mostly-current North Korean MiG-21bis then by all means pick up this set of decals. They appear to be in register and are nicely printed, so there is no doubt to their quality. In addition, while we only have the 1/144 and 1/48 decals to show, JBr Decals has also released these in 1/72, ready for when Eduard releases their new-mold MiG-21bis.
Many thanks are sent to JBr Decals for the review decals.