Internet Modeler : New Releases : Aviation
RSS News Feed
LF Models 1/72 Forgotten Attacker (Northrop A-17) Decals
Introduction
The Northrop A-17 first flew for the USAAC in February, 1936.  There were 110 built before Northrop starting building the A-17A, which was different primarily with retractable undercarriage.  When the USAAC decided that attack aircraft were to be multi-engined, the A-17 was then surplus and used for other than attack duties.  There is only one A-17 still in existence, an A-17A at the National Museum of the United States Air Force in Dayton, Ohio, USA.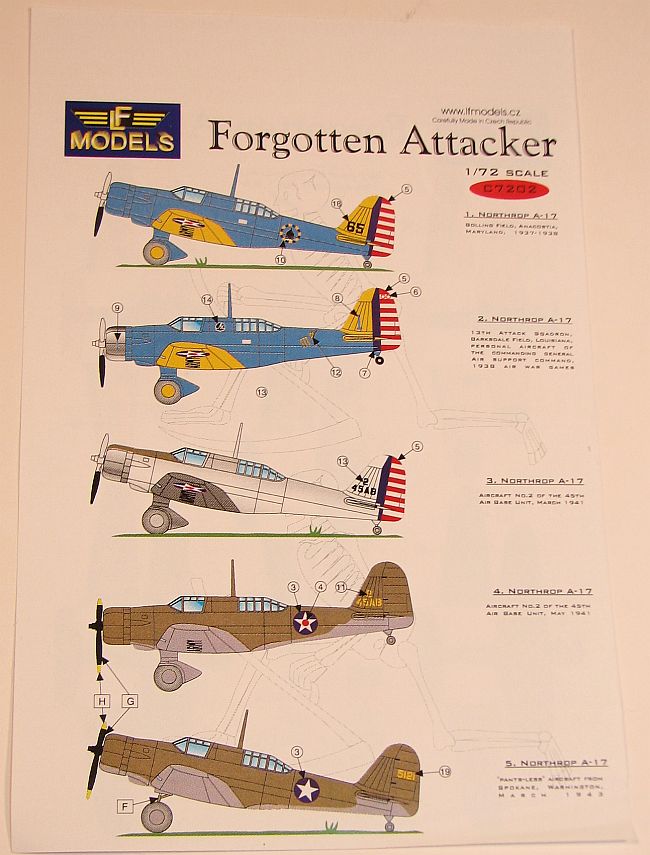 It's my belief that more should be written about 'tweener aircraft, especially those flown by the USAAC.  Current books tend to concentrate on US Navy 'tweeners, leaving those studying the USAAC wanting.  While The Aviation Workshop book "Wings of Stars" is a good start, there still needs to be more written.  There are books on the US Navy's Northrop BT-1, Grumman FF, Vought SB2U Vindicator, etc., but very few on specific USAAC types – the only ones that come to mind are the Aerofax and Squadron Mini on the Boeing P-26 (I'm sure there are more, those are what I can think of off the top of my head).  I think a good start would be a book on the A-17 series of aircraft.
Decals
LF Models is primarily known as a producer of resin kits, 'tweeners being amongst those types.  However, they've been lately delving into providing aftermarket decals for various aircraft, this time the 1/72 MPM Northrop A-17  - sheet C7202 - being the subject.  While the MPM A-17 contains markings for two aircraft – both "yellow winged" – the LF selection naturally provides more. It contains markings for the following aircraft:
A-17, Bolling Field, Anacostia, Maryland, 1937-1938, finished with a blue fuselage and yellow flying surfaces
A-17, 13th Attack Squadron, Barksdale Field, Louisiana, personal aircraft of the commanding general Air Support Command, 1938 war games, finished with a blue fuselage and yellow flying surfaces and a natural, or "aluminum finished" cowl
A-17, Aircraft No.2 of the 49th Air Base Unit, March 1941, finished in overall aluminum (not sure if it's "natural", or painted)
A-17, Aircraft No.2 of the 49th Air Base Unit, May 1941, which was over-painted in olive drab uppers, with neutral grey undersides
A-17, "pants less" aircraft from Spokane, Washington, March, 1943, also finished in olive drab uppers and neutral grey undersides
The decals are very nicely printed and in register.  I haven't used these yet so I'm unsure of the thickness and how they apply. Instructions are a little on the small side, but they are in color and show the placement of decals on top and bottom, as well as the port side of the fuselage.  One is to assume the starboard side was the same.
I'm looking forward to working on an MPM Northrop A-17 and using these decals.  Right now I can't decide between aircraft one or two, but I do know it will definitely be finished as a blue and yellow bird.