Internet Modeler : New Releases : Aviation
RSS News Feed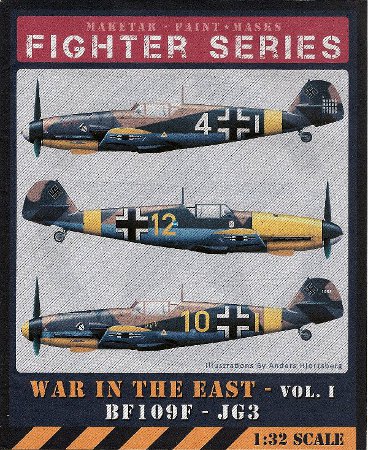 Maketar Paint Masks - Fighter Series
Maketar Paint Masks Fighter Series - War in the East Vol. 1 covers the Bf109F-4's of JG3 in the spring of 1942. This mask set gives you all the masks you need to paint all markings such as insignia, kill tallies, squadron emblems, aircraft numbers and more on three 5"x7" sheets of Kabuki Tape.
This is the second full aircraft mask set released by Maketar and is available in both 1/48 and 1/32 scales. This review will examine the 1/32 set, though I'd imagine the 1/48 release should be nearly identical.
There are enough markings included to paint all three aircraft depicted on the cover. They all wore a rather interesting camouflage. In March 1942, JG3 received 41 Bf109F-4's painted in desert colors of RLM 78 underneath, and RLM79 on top. Realizing these colors alone were unsuitable for service on the Eastern Front, two additional colors were added in large sections. Perhaps with some artistic license and photograph deciphering, Maketar concluded these two additional colors were most likely RLM 70 and RLM 74.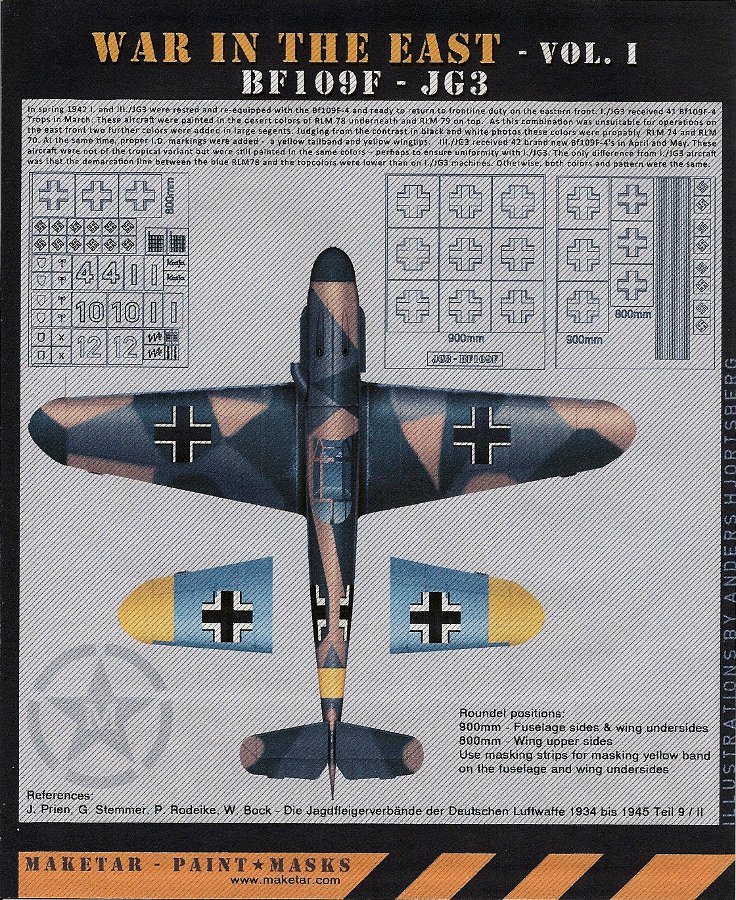 The Aircraft
White 4 of 7./JG3 as indicated by the white spinner cap, was flown by Hans Schleef. The name "Katja" is written in red on the engine cowling. There are two "Katja" masks included, but it is not specified if the marking was carried on both sides of the cowl or not. I would guess that it was only on one side, and the second mask is an extra in case of errors. An impressive kill tally posted on the rudder and all typical Luftwaffe insignia are also included.
The second option, Yellow 12, Wrk. Nr. 10110 was piloted by Uffz. Durkopp when it was forced down on May 18th, 1942 behind enemy lines. Durkopp survived and was taken prisoner. This aircraft had an unusual full yellow cowling not normally seen on I./JG3 aircraft of the period and also retained it's tropical sand filter.  The spinner appears to be 2/3 black, 1/3 white. The demarcation line is much higher, almost mid fuselage, than the other two aircraft of the set.
Yellow 10, Wrk.Nr.13324 was flown by Lt. Rolf Diergardt of 9./JG3. This aircraft has a yellow spinner cap, white shield with axe emblem and the text "Li Li Li" written in yellow under the canopy. Once again there are only two sets of this text included, so I would venture to say the text only goes on the left side of the aircraft. Kill tally masks for the rudder are also included.
Some general observations:
White 4 and Yellow 10 both have outlined numbers and even in 1/32, the outline is very tiny, but is still present on the maks, which is impressive.
JG3 emblems are supplied as a two piece affair, with separate mask for the shields and the axe or crossed swords.
The text mask for "Li Li Li" is extremely fine and great care must used when placing these masks. Fortunately there's a backup mask in case you mess up the first one.
The precision of the cuts on these sheets is amazing!
It would be nice if the color instruction sheet included color profiles for both sides of each aircraft or at least specified which markings carried over to the other side.
There's no mention of the order in which to use some of the more complex masks such as the three part Balkenkreuz. Strategic color planning and painting will go a long way in helping get these markings painted.
Unfortunately, canopy masks didn't make it on these sheets. Seems odd to have a complete mask set, less a canopy mask. Though there are "masking strips" included which the instruction do say can be used for canopy masking, but they are really nothing more than thin strips of (similar to) Tamiya tape. Not a deal breaker, but a canopy mask would've been a nice inclusion.
Masks for standard stencils and warning markings would be nearly impossible to work with in mask form and are therefore not included. So you may still opt to use kit decals if you wish to have these on your builds.
Overall, this is a very nice mask set. I would recommend this set to any Luftwaffe or 109 fan who would prefer the added realism achieved by painting on the markings.
I will be this set to the test on a 1/32 Hasegawa Bf109F-4 kit in the near future so check back for an "in-use" review. My thanks to Maketar Paint Masks for the review sample. Maketar Paint Masks are available direct from www.Maketar.com