Internet Modeler : New Releases : Aviation
RSS News Feed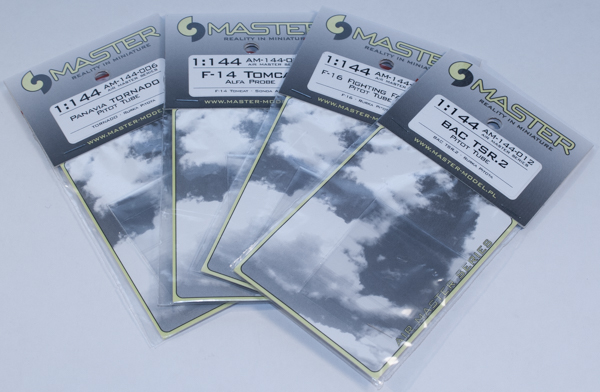 Master 1/144 Pitot Tubes
If you want realistic barrels and pitot tubes on your model, then look no further than Master. They provide a number of replacement items for kit parts that, if left in plastic, wouldn't look very realistic. Part of the problem is the limitation of the material being offered. Trying to manufacture something as fine as a pitot tube using injected plastic - or resin, for that matter - is near impossible. That's why if you want a better looking model then you want what Master offers. In this case replacement pitot tubes in 1/144. Yes, you read that right. 1/144 metal, replacement pitot tubes for the following kits.
| | |
| --- | --- |
| AM-144-006 Panavia Tornado | |
| AM-144-007 F-14 | |
| AM-144-008 F-16 | |
| AM-144-012 BAC TSR.2 | |
Master doesn't list specific kits meant for these pitot tubes but that's because all you need to do is drill a hole in the nose of the model and slide the pitot in and glue it. If there are enhancements to be made - or special steps needed - Master lays them out on their instruction sheet. So if you want a better looking 1/144 jet then by all means use a Master pitot tube.
Huge thanks to Master for sending these review samples.