Internet Modeler : New Releases : Aviation
RSS News Feed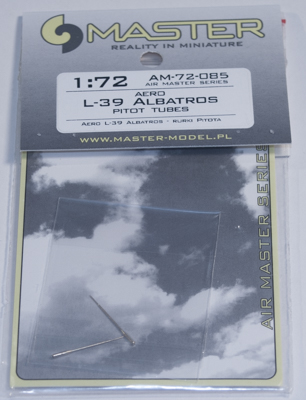 Master 1/72 Aero L-39 Albatros Pitot Tubes
Master excels in providing replacement, turned, metal barrels and pitot tubes for various aircraft. They lend themselves to much more scale finesse and, in the case of gun barrels, are hollow. This time Master turns their attention to the Aero L-39 Albatros in 1/72 scale.
The best kit in this scale is of course from Eduard and they have released it as the L-39C, L-39ZA and L-39ZO, et.al. While the kit-supplied pitot tubes are okay, they definitely can be improved with much better clarity and detail by these created by Master.
I now consider it a shame I haven't finished an L-39 yet so may have to rectify that discrepency soon.
I definitely want to thank Master for sending this set of pitot tubes for review.