Internet Modeler : New Releases : Aviation
RSS News Feed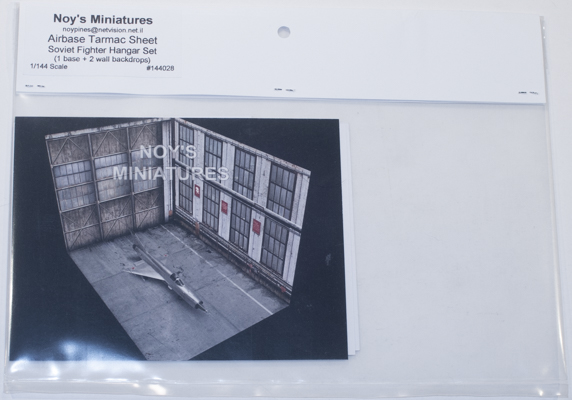 Noy's Miniatures 1/144 Airbase Tarmac Sheet Soviet Fighter Hangar Set
I feel that whether you're displaying your models on the contest tables, or even within your own display cabinet, it's always good to have something to set your model apart from the others. That's definitely where these displays from Noy's Miniatures come in.
This time around, Noy's Miniatures provides an Airbase Tarmac Sheet Soviet Fighter Hangar Set and sent their 1/144 version for review (this set of displays is also available in 1/72, 1/48 and 1/32). This set consists of three cardstock display pieces: a hangar floor and two "sides", the back and left walls. To create the "set" somehow you need to attach the "walls" to the "floor" resulting in the single display. You can do that by gluing them together or, as I want to try, apply them to a metallic surface and use rare-earth magnets to hold the display together, allowing dismantling when not in use.
You can gauge the size of the display by my use of the RetroWings/Eduard MiG-21UM in progress. This is a very nice display that will really enhance the overall "feeling" of your model, wherever it's placed.
Huge thanks to Noy's Miniatures for sending this display set for review. If you can't find their display bases at any hobby shop, then email them and they'll reply back with information on how you can obtain yours direct.