Internet Modeler : New Releases : Aviation
RSS News Feed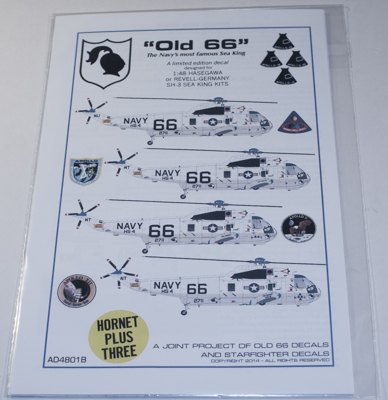 Old 66/Starfighter Decals 1/48 "Old 66" Sea King
Originally releasing decals for "Old 66" as she appeared during the Apollo 13 recovery, Old 66/Starfighter Decals has released this set which covers the most famous U.S. Sea King, the helicopter that helped with astronaut recovery of various Apollo programs. Since the first decal set was just for how the SH-3D from HS-4 looked during the Apollo 13 recovery, this set covers how the helicopter looked during the earlier Apollo numbers: Apollo 8, Apollo 10, Apollo 11, and Apollo 12. Not only does the instruction sheet covers how the markings were, it also covers what corrections are needed to the Hasegawa kit to make it more accurate.
If you're looking for either alternate markings for your 1/48 Sea King, or actually have interest in "Old 66" at any point of its career, then by all means pick up this decal sheet.
Many thanks sent to Starfighter Decals for sending this to review.