Internet Modeler : New Releases : Aviation
RSS News Feed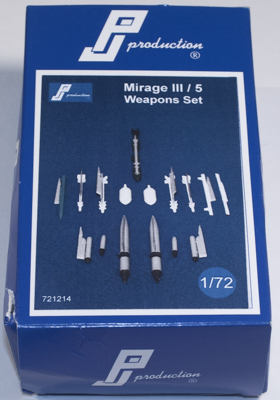 PJ Production 1/72 Miarge IIIE/5F Weapons Set
If you're looking for an entire set of ordnance to hang from your 1/72 Mirage IIIE/5F then PJ Productions has you covered. The following weapons are catered for: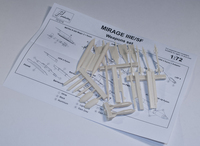 Matra R-550 Magic 2
AIM-9B Sidewinder
LAU-32
LRF 4
Phimat
Barracude 2
Barrax
STRIM Bomb
JL-100
There are also pylons for each "type" of weapon. For example there are specific pylons for the missiles while one pylon is used for multiple ordnance. For the LAU-32 and LRF 4 both used the provided CES-3 pylon (that has molded the adapter for those two weapon systems). There is a "standard" CES-3 pylon that can be used for the Phimat, Barracuda 2 or Barrax. The set comes with the Ventral Pylon PM3 which can be used with either two Alkan P65 Adaptors or the STRIM bombs. Finally the JL-100 comes with the CRP-18 Pylon molded in-situ.
Not only do the instructions provide painting guidance but it also includes a drawing showing the possible load-outs for the ordnance.
This is a great set to use if looking for a one-stop "shop" to hang ordnance off your 1/72 Mirage IIIE/5F. My thanks to PJ Production for the review set.