Internet Modeler : New Releases : Aviation
RSS News Feed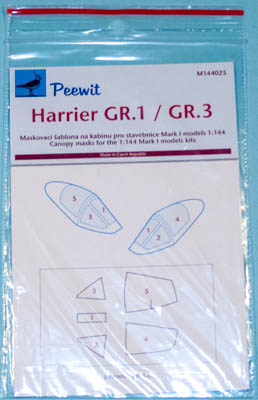 Peewit 1/144 Mark I Harrier Gr.1/Gr.3 Masks
Thankfully, Peewit isn't afraid to release masks for the kits that no one else will. Case in point is most kits in 1/144. While others don't want to, Peewit comes to our rescue for those of us that model in this scale.
This time its for masks for the recently released early Harriers by Mark I in 1/144. While Peewit masks only take care of the canopy, you can find circle masks in their catalog to mask the wheels/tires. I truly appreciate any mask by any company as it speeds completion of a model. Peewit is one of the best mask companies out there if for nothing else than the subjects they cover.
I definitely thank Peewit for sending these masks to review.