Internet Modeler : New Releases : Aviation
RSS News Feed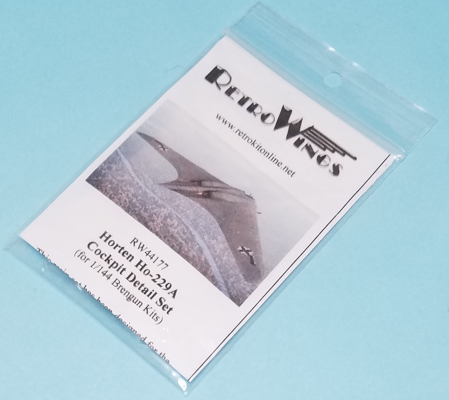 RetroWings 1/144 Brengun Ho-229A Cockpit Detail Set
Overview
A few years ago Bregun released a number of Horten Ho 229 kits. I've built one and it is really a very nice kit, albeit with not much of a cockpit. Thankfully RetroWings has come to the rescue.
The Cockpit
The RetroWings 1/144 Ho 229A cockpit for the Brengun kit consists of three pieces of resin: the main cockpit tub; the instrument panel; and a control stick (which doesn't exist in the Brengun kit).
The cockpit tub and instrument panel are direct replacements for the kit parts. The control stick is a nice addition and will look great when added. You'll also need to provide a short section of plastic rod that goes from behind the pilot's head to the back of the fuselage. Otherwise this set is just a drop-in replacement.
Conclusion
The Brengun 1/144 Ho 229s are decent kits but were seriously lacking in its out-of-the-box cockpit. RetroWings has now resolved that for you. While Brengun does have their own photoetch set for the kit, unfortunately they do not have a replacement vacuum-formed canopy. You might want to make your own to show off the RetroWings detail.
Huge thanks to RetrokiT for supplying the cockpit to review.