Internet Modeler : New Releases : Aviation
RSS News Feed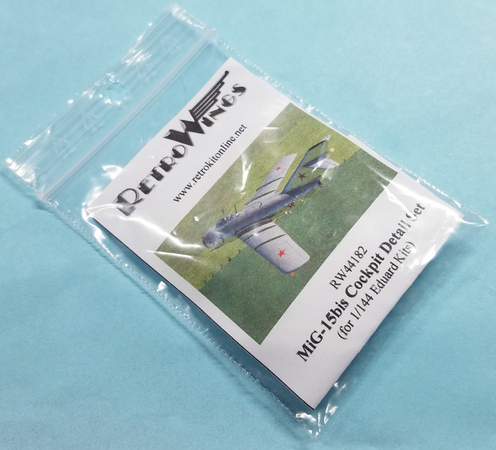 RetroWings 1/144 Eduard MiG-15bis Cockpit Detail Set
Overview
The Eduard MiG-15 in 1/144 is truly a very nice kit and looks great when finished. I built one a few years ago and enjoyed almost every minute of it (I'm still trying to figure out how to add the aerial antenna wire, though). The only area I could think of that would need upgrading would be the cockpit, as there is little detail to the kit's pieces. Here's where RetroWings shines.
The Cockpit
The RetroWings 1/144 MiG-15bis cockpit for the Eduard kit consists of five pieces of resin: the main cockpit tub; the seat; an ejection seat handle; a replacement gun sight; and a control stick.
The cockpit tub is a direct replacement for the kit's pieces B4 and B29 (the resin tub includes the nose intake, which is separate in the kit). The seat is much nicer than the kit seat and is separate, to which you add the ejection handle. The control stick is definitely more to-scale than the molded in-situ stick that comes with the Eduard tub. In addition, RetroWings provides a resin gun sight that is used in place of the kit's, which is to be removed from kit part C3.
Conclusion
All-in-all this is a great upgrade for an already superlative kit. I don't see a reason why this resin cockpit set can't be used in the "straight" MiG-15 from Eduard, and not just the MiG-15bis. Add the Brengun vacuum-formed canopy and you'll be able to show off all the great detail RetroWings provides.
I send my "thanks" to RetrokiT for supplying the cockpit to review.