Internet Modeler : New Releases : Aviation
RSS News Feed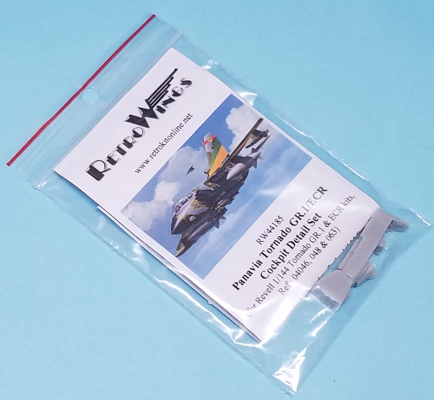 RetroWings 1/144 Revell Panavia Tornado GR.1/ECR Cockpit Detail Set
Overview
The Revell series of 1/144 Tornados have been out for quite some time. Still, they are considered the best in-scale so definitely worthy of tracking down. Now, if you want to build a GR.1/ECR version, then RetroWings has you covered with this replacement cockpit.
The Cockpit
The RetroWings 1/144 Panavia Tornado GR.1/ECR cockpit for the Revell kit consists of four pieces of resin: the cockpit tub; the top part of the instrument panel for the rear cockpit; and two ejection seats.
This set replaces eight of the kit's cockpit pieces. However, you will need to perform some kit surgery. Unfortunately, for this set especially, the instructions are a bit small and it's difficult to make out exactly what the surgery entails. This is definitely one of the newly released cockpits from RetroWings that would benefit from larger instructions, for example maybe a downloadable PDF file.
Conclusion
Other then my small complaint above about the instructions, this is definitely a set to track down to enhance the nicely-molded Revell Tornado. Keep in mind this set is for the newer releases and not the earlier Revell kit 04036, "Tornado ECR". Also note it's not meant for the Dragon 1/144 Tornado as RetroWings has a separate cockpit for that, RW44012.
I definitely thank RetrokiT for supplying the cockpit to review.