Internet Modeler : New Releases : Aviation
RSS News Feed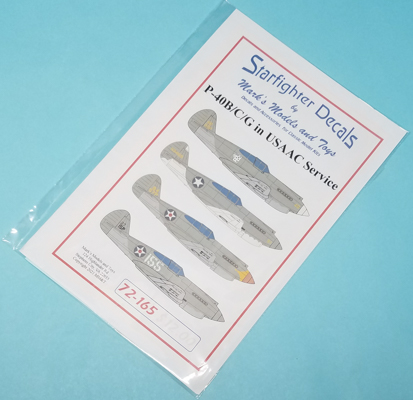 Starfighter Decals 1/72 P-40B/C/G in USAAC Service
Overview
The Airfix 1/72 P-40B (or Hawk 81) is a very nice kit and I've seen a few built-up examples that look superb. It's a superb model and is what is recommended for this decal set.
The Decals
Starfighter Decals 1/72 P-40B/C/G in USAAC Service covers nine different Warhawks:
P-40B, 33rd Pursuit Squadron (PS), 35th Pursuit Group (PG), 1941
P-40G (export P-40 re-manufactured to P-40B specs), 77th PS, 20th PG, 1941
P-40B, 79th PS, 20th PG, 1941
P-40B, 55th PS, 35th PG, 1941
P-40C, 31st Fighter Squadron (FS), 6th Air Force (AF), Dec 1942
P-40C, 57th PG, Mitchell Field, early 1942
P-40B, 20th PS, 24th PG, Phillipines, March 1941
P-40B, 2nd Lt K. Taylor, 47th PS, 15th PG, Hickam Filed, T.H., Dec 1941 (credited with 4 kills (Vals))
P-40B, 2nd LT G. Welch, 47th PS, 15th PG, Hickam Field, T.H., Dec 1941 (credited with 4 kills (3 Vals, Zero and a probable))
All aircraft are painted on top with Olive Drab and all but the 31st FS, 6th AF Warhawk are finished in Neutral Gray on the undersides, that specific airframe had white underneath. Some have painted spinners and a few have other color on the aircraft. The decals are nicely printed, look great and appear to be in register.
Conclusion
If you're looking for an alternate set of markings for your Airfix 1/72 P-40B then by all means pick up this set of decals. You won't be disappointed.
My thanks to Starfighter Decals for sending these decals to review.