Internet Modeler : New Releases : Aviation
RSS News Feed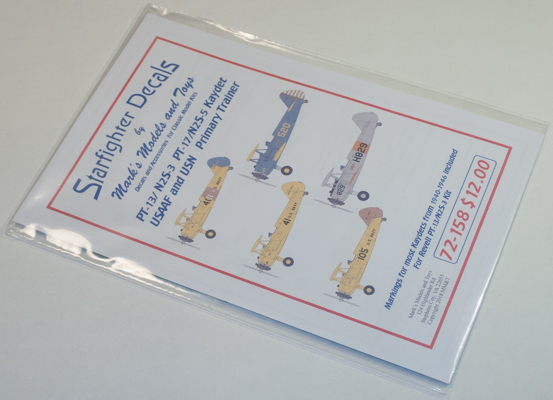 Starfighter Decals 1/72 PT-13/ N2S-3 PT-17/N2S-5 Kaydet USAAF and USN Primary Trainer Decals
To replace the Pavla Kaydet I searched through the Rare-Plane Detective's stash at the 2017 IPMS Nationals, looking for a Revell 1/72 PT-13. Naturally I found one so added it to my stash in the hopes that at some point, someone would show some "love" for the kit and release aftermarket. A year later my dreams came true. One of the aftermarket releases was a resin cockpit for it from Starfighter Decals and they also released a comprehensive set of decals for the type.
This set of decals from Starfighter Decals includes markings for the following eight aircraft:
PT-13D, Ser. No. Unknown, Randolph Field, TX, 1938 (True Blue and Yellow 4)
PT-27, Ser. No. 42-15680, Thunderbird Field, AZ (overall Yellow 4)
PT-17, Ser. No. Unknown (overall aluminum with an International Orange fuselage stripe)
N2S-2 Kaydet, Bu. No. 3553, NAS Corpus Christi, 1943 (overall Chrome Yellow with a red fuselage stripe and a blue rudder)
N2S-3 Kaydet, Bu. No. Unknown, NAAS Corry Field, 1943 (overall Chrome Yellow with a red tail)
N2S-3 Kaydet, Bu. No. 05369, on display at the National Museum of Naval Aviation (overall Chrome Yellow)
PT-17, Ser. No. Unknown, Falcon Field, AZ, late 1942 (True Blue fuselage, Yellow 4 upper wing (except the starboard top is aluminum, stab and fin, and aluminum lower wings))
PT-27, Ser. No. Unknown, Blyth, CA, late 1945 (aluminum fuselage, upper wing underside and lower wing uppers; Chrome Yellow lower wing's underside, upper wing's top, stabs, fin and rudder)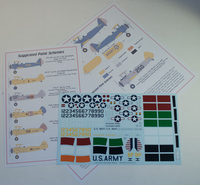 Now, while Starfighter does include decals and instructions for the above eight aircraft, Starfighter also includes enough different decals so you can produce just about any Kaydet flown throughout most of its career. If you have photos for a specific aircraft you want to build, chances are there are decals for it with this set. In addition Starfighter includes both USAAC/USAAF and USN stencils to include with your build. Nice!
The instructions are top-notch not only explaining all the differences with each of the eight catered-for aircraft but also all airframes in general. Just study these and any photos you may have to build an excellent 1/72 PT-13 Kaydet.