Internet Modeler : New Releases : Aviation
RSS News Feed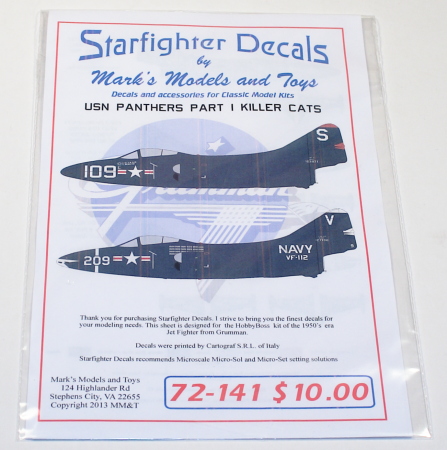 Starfighter Decals 1/72 USN Panthers Part 1 Killer Cats
Starfighter Decals has a knack of bringing out decals for subjects other aftermarket companies neglect. This is definitely the case for the Hobby Boss 1/72 F9F-2 Panther, as that is now considered to be the definitive kit of this aircraft. The selling point to this set of decals is the fact that all three of these aircraft actually shot down aircraft during the Korean War. The markings are for the following three aircraft: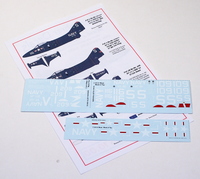 F9F-2, 125127, VF-51, S/116, USS Essex, 1951-52, as flown by Ens. Neil Armstrong
F9F-3, 123071, VF-51, S/109, USS Valley Forge, 1950, as flown by Lt(jg) Len Plog, Yak-7 kill
F9F-2B, unknown, VF-111, V/209, 1950, as flown by Lt.Cdr Amen
As with sheets now being produced by Starfighter Decals, the printing of the sets are done by Cartograf so you can be assured of their high quality. The colors are very nicely done and it appears all decals are in register. So, if you're looking for alternate markings for your Hobby Boss Panther, you'll definitely want to pick up this set.
I definitely thank Starfighter Decals for sending this in for review.