Internet Modeler : New Releases : Aviation
RSS News Feed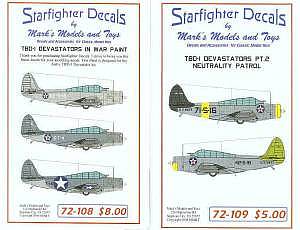 Starfighter Decals 1/72 Douglas TBD-1 Devastator
The latest set of releases from Starfighter Decals again cover older models that have been ignored by the aftermarket companies. This time, Starfighter releases decals for the Airfix TBD-1, recently re-released by "NavAir".


The first sheet, #72-108 has the following schemes on it:

VS-42, May 1941 in overall Light Gray
VT-2, May 1942, Battle of Coral Sea in two-tone gray
VT-6, both in March 1941 and October 1941 showing the same aircraft first in Light Gray, then in two-tone gray
Torpedo 8, Battle of Midway, June 1942, T-14, flown by Ens. G. Gay in two-tone gray
Torpedo 8, Battle of Midway, June 1942, T-16, flown by Lt. Cdr. J.C. Waldron in two-tone gray
Torpedo 6, Doolitle Raid, April 1942 in two-tone gray with a red-and-white striped rudder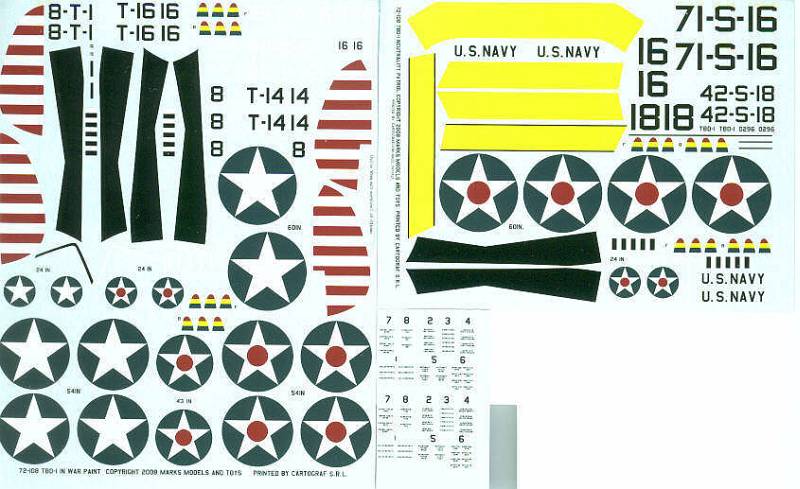 The second sheet, #72-109, is more for the pre-war era and has two aircraft on the sheet:

VS-71, 0299, USS Wasp, 1940 with a black tail, yellow stripes and a yellow cowl
VS-42, 0296, USS Ranger, March 1941 with a green tail, yellow wing strips and the cowl lower half is also yellow
These sheets - as are all new 1/72 sheets by Starfighter - are printed by Carpena and look excellent and in registration. While designed for the Airfix kit I would be surprised if they wouldn't work with the Valom kit. However, the Airfix kit is not that expensive and when coupled with the White Ensign Models photoetch, a nice kit could be produced.