Internet Modeler : New Releases : Aviation
RSS News Feed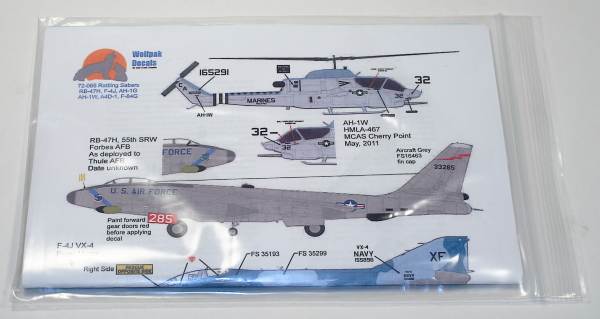 Wolfpak Decals 1/72 Rattling Sabers
I'm not sure I get the theme of this release from Wolfpak Decals, but the subjects range from an F-84G from 1953 to an AH-1W from 2011. In any event, each subject is covered in Wolfpak Decals' superlative instructions which not only include modeler's notes for the subject at hand, but also a history lesson of not only the subject, but sometimes the subject's "home base", such as their base of operation and/or the squadron they're attached to.
This release, titled Rattling Sabers, consists of the following aircraft:
AH-1W, HMLA-467, MCAS Cherry Point, May 2011 (finished overall in gray and includes tail stripes that must be painted)
RB-47H, 55th Strategic Reconnaissance Wing (SRW), Forbes AFB (deployed to Thule AFB), date unknown (finished overall in Light Ghost Gray with red nose-gear doors)
F-4J, VX-4, Point Magu, 1973 (finished in a three-tone blue scheme)
A4D-1, VA-34 Blue Blasters, March 1957 (finished in FS 36440 over white with blue canopy framing and a blue "flash" on the external, fuel tanks)
AH-1G, F/79 Aerial Rocket Artillery (ARA), Vietnam, June 1972 (finished in typical Olive Drab overall)
AH-1G, 238th Aerial Weapons Company (AWC), Pleiku, Vietnam, June 1971 (as above, finished overall in Olive Drab)
F-84G, 31st Strategic Fighter Wing (SFW), August 1953 (finished overall in natural metal, but this was a Strategic Air Command (SAC) aircraft)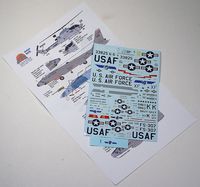 All decals appear in register and are very nicely finished. A couple of notes. The recommended route for the A4D-1 is to take the "new-tool" Airfix A-4B and back-date it. Not only are the excellent instructions provided on how to do so, but it also links to a site that will help as well. My personal favorite from this sheet is the SAC F-84G. There was a short time where SAC employed its own fighter force but before being completely phased out some were converted for a "tactical" nuclear response. That is the case for the F-84G subject provided, something I very much like.
There is definitely a unique combination of aircraft on this release, and I feel there are subjects that are worth purchasing this set for. If any of these are your fancy, you'll definitely want to track down this sheet.
Huge, huge thanks to Wolfpak Decals for not only providing the subject matter on this release, but also for the review set.