Internet Modeler : New Releases : Aviation
RSS News Feed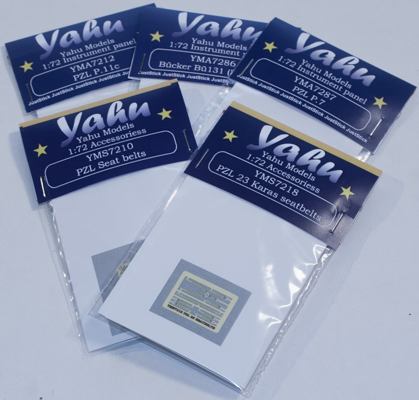 Yahu 1/72 Photoetch
In my opinion, Yahu produces the best 1/72 photoetch instrument panels. They look extremely realistic and most of them are just "drop in" replacements for the kits' part. That is, for most of their instrument panel sets, there is no surgery required to add them to your build.
This time around we take a look at the following pieces, not all instrument panels.
| | |
| --- | --- |
| YMS7210 - PZL Seat Belts: with the new Arma Hobby PZL P.7s, the Azur P.11s (and upcoming Arma Hobby P.11s), this seat belt set is a welcome addition to any 1/72 PZL cockpit. | |
| YMS7218 - PZL 23 Karas Seat Belts: this will be a great set to add to the newly released IBG kits as well as - again - the venerable Heller kit | |
| YMA7212 - PZL P.11c: while specifically meant for the recent Azur kits, this instrument panel could also probably be adjusted to fit in the venerable Heller (and derivative) kits, and might also work whenever Arma Hobby releases their P.11s. | |
| YMA7286 - Bücker Bü 131 (RLM 66): while Yahu lists this for an AZ Model kit, I can't find any reference to AZ Model releasing a 1/72 Bü 131. However, the latest kits I can find, injected-wise, were released by RS Model so maybe Yahu meant that manufacturer instead. There were other releases years ago by other manufacturers, but I suspect, with RS being the newest, that's the kit Yahu meant. | |
| YMA7287 - PZL P.7: since Arma Hobby has newly released a number of 1/72 P.7s it was fitting that Yahu produce an instrument panel for that type. While the photoetch and film example in Arma's "Expert" set is decent enough, this Yahu instrument panel is far better and highly recommended. | |
As I already mentioned, I personally think Yahu's instrument panels are the best in the industry, especially in 1/72. If you really want your kit cockpit to "pop" then by all means pick these up and use them. You won't be dissappointed.
Huge thanks to Yahu for sending all these in for review.