Internet Modeler : New Releases : Book Reviews
RSS News Feed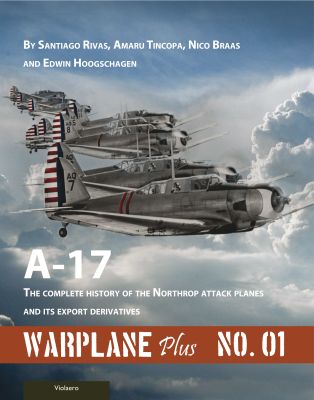 A-17: The Complete History of the Northrop Attack Planes and its Export Derivatives
Authors: Santiago Rivas, Amaru Tincopa, Nico Braas and Edwin Hoogschagen
Publisher: Lanasta
ISBN: 978-90-8616-271-0
Binding: Softcover
Pages: 164
The Northrop A-17 was an attack plane developed in the 1930s and had as its lineage the famous Northrop Gamma line of aircraft. The type entered service with the United States Army Air Corp (USAAC) early in 1936 and the first deliveries had the spatted undercarriage. It wasn't until later in 1936 that the A-17A was delivered, which had fully retractable landing gear.
This book is meant to cover all types of the A-17 and its export equivalents. It not only does a fantastic job covering the USAAC usage of the type, but also all the nations that flew her as export aircraft. Even though the book doesn't include a table of contents, I will provide one to show just what is covered in this book.
Jack Northrop's Early Aircraft

An Army Air Corps Order

A-17 in US Air Corps Service

1939 - A Year of Steady Decline

Secretive Transfer of Aircraft

Panama Canal Zone

Puerto Rico

The A-33

Failed Export to France

Great Britain

Transfer to South Africa

Sweden

Northrop 8A-2 in Argentina

Douglas 8A-3P in Peruvian Service

Douglas 8A-3N for the Dutch "Militaire Luchtvaart"

A Trainer Role in Little Norway

Sources
As you can see, this book covers a lot of information about how the A-17 family of aircraft was used throughout the world. Naturally the largest sections cover the USAAC use of the type, but the other sections are just as important.
While there is a four-view drawing in the book, there is no scale listed. In fact, this would be my one major complaint of the book: no scale drawings. It would have been nice to include not only too-scale four-view drawings, but also drawings to show the differences between the A-17, A-17A and all the export variants. But even so, don't let that stop you from picking up this book, especially if the A-17 is of any interest. There are plenty of detail pictures throughout and color profiles to showcase how she was marked throughout her life, and in all parts of the world.
This title will definitely help me finish my 1/72 MPM A-17 and A-17A kits. Hopefully the book will spark further interest in the modeling world in regards to the type of aircraft.
Huge thanks to Lanasta for supplying this book to review.