Internet Modeler : New Releases : Book Reviews
RSS News Feed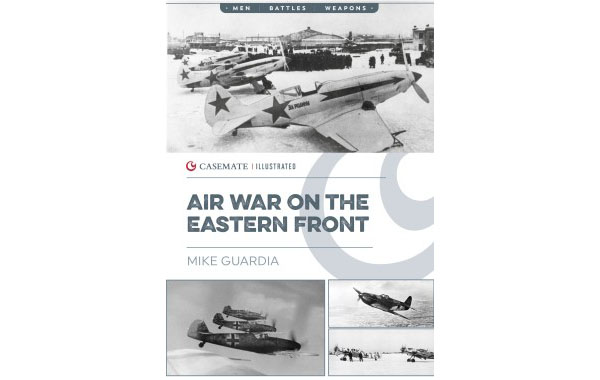 Air War On The Eastern Front
Author: Mike Guardia
Publisher: Casemate Publishers
ISBN: 978-1-61200-908-7
Binding: Softcover
Pages: 128
Casemate continues to expand on their Illustrated Series with this new title covering the air war on the Eastern Front during the Second World War. This was one of the biggest campaigns during the Second World War, with the total numbers of German and Soviet forces being truly staggering. From 1941 to 1945, both sides threw immense amounts of pilots and aircraft into battle. This book takes a look at both sides during this war, covering the overall strategy of each side, as well as the tactical implementation of that strategy by the Germans and the Soviets. The challenges of fighting over the flat steppes are covered as well, as is the major battles fought.
The book begins with an overall timeline of the events, as well as an overview of what led up to the German invasion of the Soviet Union. It then takes a look at each side's air forces at the point leading up to the invasion in 1941, starting with the Red Air Force. This includes a brief history of the evolution of the air forces from the early 1900s on, followed by an overview of some of the major aircraft of each side. For the Soviet side, this includes the Il-2, La-5/7, Yak-1/3/7/9, MiG-3, Pe-2, and Tu-2. For the German side, this includes the Ju 87, Bf 109, Fw 190, He 111, Ju 88, Do 17, and Ju 52.
After that introduction, the book then takes a chronological approach to the events. This starts with Operation Barbarossa, the German invasion of the Soviet Union in 1941. This initial push was a strong one, but the Soviet Union had the advantage of being able to trade land for time. This allowed the Soviet Union to prepare counteroffensives, and that's the next chapter, the Soviet push back. This continued on until the Russians were able to leave their borders and push into Germany, leading to the next chapter on the fall of Germany. The book finishes up with an overview on the aftermath.
The book is about a 50/50 blend of written text and photos, so this title definitely plays into the 'illustrated' category of the series. This makes it a great reference for modelers and aviation historians who are interested in colors and markings. Speaking of colors, several of the photos are in color, adding more life to the story being told. Overall this is a great overview of the air war on the Eastern Front, both in photos and in words. My thanks to Casemate for the review copy.