Internet Modeler : New Releases : Book Reviews
RSS News Feed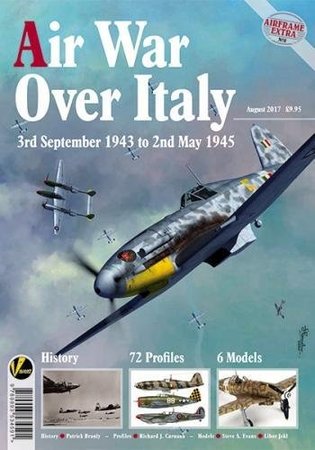 Air War Over Italy: 3rd September 1943 to 2nd May 1945
Author: Patrick Branley
Publisher: Valiant Wings Publishing
ISBN #: 978-0-9935345-9-1
Binding: Softcover
Pages: 82
This time around, Valiant Wings Publishing puts their sights on the Air War Over Italy during the Second World War. Interestingly, despite the title saying Air War, the historical narrative focuses mainly on the ground war. Perhaps that is to be a counterpoint to the aviation subjects, which are covered in the model builds and color profile illustrations, but I for one was hoping for a bit more written history to the actual air war.
However, given how this series of books (Airframe Extra) tends to concentrate more on actual model builds and color profiles, there are enough of both to satisfy most modelers. The models built superbly by Libor Jekl and Steve A. Evans are:
1/72 Special Hobby Baltimore Mk V
1/72 Eduard Spitfire Mk IXc
1/72 Special Hobby Fiat G.55 Serie I
1/72 Hasegawa Ju 88A-4
1/48 Eduard P-39 Airacobra
1/32 21st Century Toys Macchi C.205 Veltro
So, if you go in with wanting to know about the models built, and/or the color profiles provided by Richard J. Caruana then you will enjoy this title. If you are looking for more of a historical narrative on the air war over Italy, you will want to search elsewhere.
I do thank Valiant Wings Publishing for the review copy.