Internet Modeler : New Releases : Book Reviews
RSS News Feed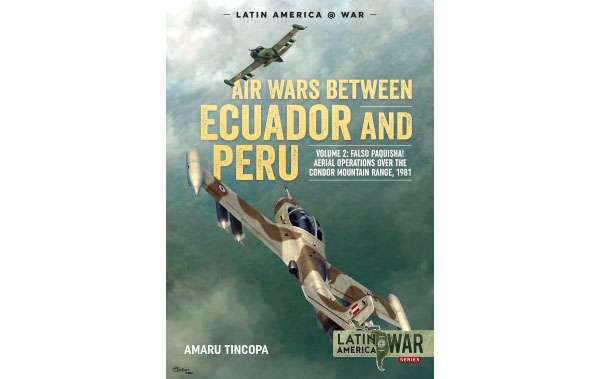 Air Wars Between Ecuador and Peru
Volume 2: Falso Paquisha! Aerial Operations Over The Condor Mountain Range, 1981
Latin America @ War Series
Author: Amaru Tincopa
Publisher: Helion & Company
ISBN: 978-1-913118-70-9
Binding: Softcover
Pages: 64
The Latin America @ War series from Helion & Company is one I keep looking forward to, as it covers a truly unsung region when it comes to modern conflict. While the Middle East seems to get the lion's share when it comes to Cold War hot conflicts, Latin America saw quite a few battles as well. This book is the second covering the air wars between Ecuador and Peru in South America, and it is an interesting one because by 1981 when this conflict broke out, the two sides had aircraft from just about every major nation producing aircraft. There were Soviet aircraft, British aircraft, French aircraft, and US aircraft across both Ecuador and Peru's military, making for some fascinating matchups.
The book begins with background information on the buildup of aviation in both Ecuador and Peru, from the 1940s up to 1981. On Ecuador's side, this featured started out with US support, but post-WW2 their main supplier was Britain. With the Jaguar, Ecuador started dealing with France as well, and by the time the conflict in 1981 rolled around, their frontline aircraft consisted of aircraft from the US (A-37 Dragonflies), Britain (Jaguars), and France (Mirage F.1s). On Peru's side, the story was similar initially, with US and then British and French support. In the 1970s, though, Peru started obtaining aircraft from the Soviet Union, including Mil Mi-8 helicopters and the Sukhoi Su-22 ground attack aircraft.
Most of this book is on this background build-up of forces, which is understandable as the actual conflict only took up a short period of time in 1981. The text on the actual conflict, though is fairly thorough. Finding the original information on both sides is challenging, though, so there are undoubtedly holes that we're likely never going to fill. Still, the author has done a great job of combining scant sources to tell this story. Because of the terrain between Peru and Ecuador, this conflict utilized helicopters extensively and the book documents that alongside the fixed wing operations.
Complementing the text throughout are lots of photos showing the aircraft and people that both built the air forces (and in Peru's case, navy) during the post-WW2 era. Combat photos from either side are very difficult to come by, so that content is lacking, but there is plenty of other period photos to show how each side distributed their aircraft. For colors and markings, there are a handful of color profiles that both show the different theories of camouflage between the two nations as well as the remarkable breadth of aviation types fielded by both sides.
This is another great title from Helion & Company, and I look forward to their continuing coverage in their Latin America @ War series. My thanks to Casemate for the review copy.