Internet Modeler : New Releases : Book Reviews
RSS News Feed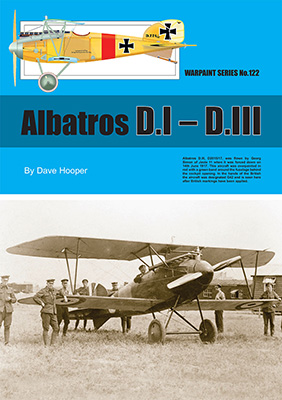 Albatros D.I – D.III
Warpaint No 122
Author: Dave Hooper
Publisher: Warpaint Books
Binding: Softcover
Pages: 48
The Albatros D.I brought about a marked change in biplane design during WWI. A sleek aerodynamic fuselage covered in wood instead of fabric gave the plane a futuristic look compared to the French Nieuports and British de Havillands of the time. Key to this streamlined design was the adoption of an inline engine rather than the more typical rotary engine found in most other fighters of the time. The result was a plane that quickly found its way into just about every Jasta and almost every battlefield, from late summer/early autumn 1916 through to the end of the war.
This newest title from Warpaint Books takes a detailed look at the Albatros D.I through D.III, from its origins in the D-type series through to its operational record. While much more is known of its successor, the Albatros D.V, the author does a good job of collecting research material and pulling it together into a nice history. The text features a welcome blend of manufacturing and operational notes, which works well in pulling the reader into the era of the early Albatros D-types.
Like other Warpaint titles, this book punctuates the text with lots of period photos. As this is a World War One fighter, all the photos are black and white, and the quality of some of the images is poor, as expected with film that was in its infancy. Still, these flaws are more than compensated by the fact that these aircraft were colorfully marked up, both with unit markings and personal markings. These variations are nicely illustrated in the photographs.
Bringing the type to life even more, though, are the color profile illustrations. It is here that one really gets a feel for the bright, colorful appearance of the Albatros D.I, D.II, and D.III fighters. There are dozens of illustrations spanning the entire life of the plane, including a couple captured examples. Adding to the illustration side of things, the center section has a set of scale drawings that help to clearly show the differences between the three types.
For someone looking for a solid overview title on the Albatros D.I – D.III, this is a great reference to pick up. The photo content alone is probably worth the price, and the added bonus of a well written text and great illustrations make this an easy choice. My thanks to Guideline Publications for the review copy.