Internet Modeler : New Releases : Book Reviews
RSS News Feed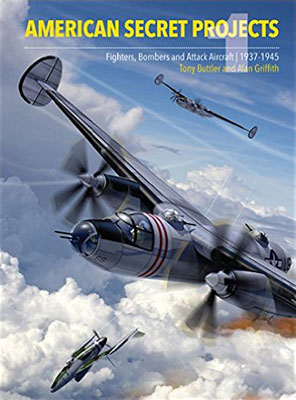 American Secret Projects: Fighters, Bombers, and Attack Aircraft 1937-1945
Authors: Tony Buttler & Alan Griffith
Publisher: Crecy Publishing
ISBN: 978-1-9065-3748-7

Binding: Hardcover
Pages: 280
Wartime brings out all sorts of innovation, and the amount of designs that did not make it easily outweigh those that did by a huge factor. While many of these never made it off the paper they were drawn on, some designs did get produced and tested, resulting in useful data that often found its way into the next production aircraft. This book from Crecy Publishing delves into this untold history of American secret projects, from just before the Second World War through to its end.
With so many potential subjects (Boeing, for example, designed eight intercontinental bombers in just two years), managing them becomes a challenge in structure. This book tackles that by breaking it down by service type, starting with USAAF and then switching to the USN. Within each of those sections, the subjects are further broken down, with both the USAAF having separate chapters on fighters and attack aircraft. The USAAF side gets even more, though, as the fighters are further separated into single-engined and twin-engined designs, and there are also light/medium bombers and heavy bombers added to the mix. Maritime patrol aircraft and flying boats add to the Navy side as well, resulting in a very broad spread of subjects.
The book presents each main subject as what requirements it would have met, and then evolves into the various derivatives that went along with it. For instance, the P-40 is presented, along with the interesting XP-46, and the P-47 is shown alongside the XP-47H. There are pure paper projects also presented, such as Chance Vought VS-302 and the North American NA-116 designs. Throughout the book, there are lots of photos and drawings reproduced, all of which help move the story forward of the evolution of aircraft design.
For those interested in aviation design and development, this book will provide some interesting reading. Considering that aircraft went from biplanes to jet fighters during the few short years of the Second World War, it is no wonder that there is a great deal of interest in the unbuilt designs of this era. My thanks to Specialty Press for the review copy.